If you are searching for healthy, great-tasting, and safe drinking water at your home, then investigating a Reverse Osmosis (RO) water filtration system is a great place to start. Homeowners worldwide are turning to RO systems for their everyday water needs, and for a good reason. At an affordable price point, a RO system is a safe and effective solution for any homeowner.
Reverse Osmosis uses force to push water through a membrane and into a holding tank. The membrane acts as a buffer to remove toxins and contaminants from the water while letting clean and pure water through to the holding tank. One of the reasons RO systems are so popular is because of their adaptability.
Some systems can be installed directly to your home's primary water source and provide quality water to every water supply in your home, which is a wonderful benefit. Other systems are smaller and designed to work with your current kitchen faucet to provide purified water for drinking, cleaning, and cooking.
No matter what size system you are looking for, we are confident that this guide will help you drill down the best reverse osmosis system for you. Everybody has different needs when it comes to your water supply, just like each home's water is unique.
By following our step-by-step guide, you will learn everything you need (and more) about RO water systems.
Looking for whole house RO systems?
Best Reverse Osmosis Water Filter Reviews
1. Home Master TMAFC-ERP Reverse Osmosis System
Reverse Osmosis (RO) water filtration systems are among the most popular choices for homeowners. The Home Master TMAFC is one of the highest-rated filters in the class. The system's overall design will work for any kitchen; it is small and compact for a RO system while still providing all the key benefits one should expect from a RO system.
The 7-Stage filtration system does a great job of filtering out all the common water contaminants you will find in municipal water supplies. By combining the features of Reverse Osmosis with 7 specific stages of filtering, you will notice an immediate improvement in the water's taste, clarity, and odor.
The easy installation of the RO System is one of its most popular characteristics. Many folks get nervous about installing anything in their home, but plumbing can be something that people avoid at all costs. With the Home Master system, you should have no fear! It was designed with the consumer in mind, and we are confident that this is one of the easiest DIY water filter installations that you can find.
What We Like:
What We Didn't Like:
2. APEC Water Systems 6-Stage Reverse Osmosis System
I cannot say enough good things about the APEC Alkaline system. The installation is smooth, and the added instructions were detailed and very easy to follow.
The six filtration stages do an excellent job of removing a wide variety of different contaminants and even tackle total dissolved solids! The additional pH level from the alkaline filter was measurable in water testing and made the water taste great!
The reverse osmosis tank is small enough to fit under most sinks and refreshes itself extremely quietly. The alkaline filter that is supposed to be adding minerals to the water did just that as our calcium levels grew after water testing.
There is a reason why the APEC system is so highly rated all over the world; it is a quality product and is easy to maintain.
What We Like:
What We Didn't Like:
3.iSpring RCC7AK 6-Stage Under Sink Reverse Water Filter System
iSpring has a long list of reverse osmosis systems for us to choose from, and the RCC7AK 6-Stage filter proved that it was a great choice for many homes. The six unique stages of filtering re-mineralization do a great job of removing impurities and total dissolved solids from your water.
We especially liked that the filters are long-lasting and very easy to change in and out. Installation is made easy because the iSpring system includes multiple different thread fittings so that your existing water line can easily be attached to the RO system.
What We Like:
What We Didn't Like:
4.PureDrop Under Sink 5 Stage Reverse Osmosis Filtration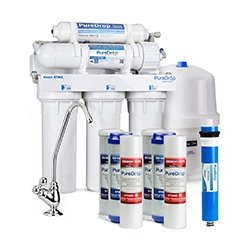 Installing the PureDrop RO system was a joy. They took the time and detail to ensure that each word in the instruction manual made sense, and it would have been hard to screw up this install.
The quick-connect fittings are a game-changer, in my opinion. They are easy to connect, and they are going to protect against any leaks that may occur.
All the materials are made up of food-grade parts, and I feel like this will help combat bacteria build-up over time in the water lines. The five filtering stages effectively remove impurities, and the water tastes great.
What We Like:
What We Didn't Like:
5.iSpring RCC7AK-UV 75GPDUnder-Sink Reverse Osmosis
The iSpring system is back on our list, but this time it brought an improved final stage of water purifying. While water is in the holding tank, an ultra-bright UV light is shining down on your water and killing any sneaky little toxins that could have made their way through the filtering. This results in some of the best-tasting water we have tested.
The European-Style brushed nickel faucet looks great and is extremely functional. Too often, manufacturers will include a cheaply made faucet, which ruins the experience for many people. You will not have that issue with this iSpring product or any other. You should not be concerned about the installation of this system; it was easy and straightforward.
This economical water filter and water softener system is America's favorite brand of water filtration system. It is based on a 5-stage reverse osmosis system and mounted under the sink for ease of storage and fitting.
It removes up to 99 % of contaminants including lead, chloride, arsenic, asbestos etc. The system can easily be installed by yourself with all parts included and clear, easy to follow instructions and videos.
To fit, attach the tubing to quick-fitting connectors and lock. No threading pipes are needed. Water enters the system through a series of filters. The first is a PP sediment filter. Next is the Carbon KDF (GAC) filter and finally a carbon block (CTO) filter.
These remove large contaminants and protect the RO membrane from chlorine and other chemicals. Next, is the RO filter which removes particles down to 0.0001 microns, ensuring that your water is as pure as possible. Water then passes through a final GAC filter before arriving at the faucet. This gives you bottled quality water with no hardness and no sodium.
Our Test Results:
What We Like:
What We Didn't Like:
6. Express Water Reverse Osmosis Water Filtration System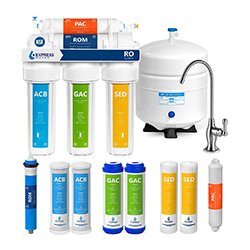 When it comes to installing and inserting the filters into the Express Water System, it simply could not be easier thanks to Express's easy-to-read and detailed filter labels. Each filter is clearly marked with an abbreviation that tells you the micron rating of the filter and a number that tells you which stage of the filtering process it goes.
The filters are easy to change out, too! An included water tank stand keeps the tank upright and safe from spills or other disasters.
In addition to simple to use filters, the Express system does a wonderful job of removing several contaminants found in many water supplies. In total, there are 108 major contaminants that will be removed throughout the RO process and 5 stage filtration process.
The first 3 stages of the process do a great job removing sediment, chlorine, and other contaminants that cause odors and poor tastes. The 4ths stage is the one that does the heavy lifting; it grabs the fluoride, TDS, and other small micron elements.
In the span of a day, the Express System can produce over 50 gallons of purified water. Thanks to the dedicated faucet, this should easily be able to accommodate the drinking water and cooking needs of everyone in your home.
What We Like:
What We Didn't Like:
7. Waterdrop RO Reverse Osmosis Drinking Water System
I think Express Water has a winner on their hands with the RO5DX. It is an extremely user-friendly water filtration system thanks to its easy filter removal and color-coded filter labeling system.
Each filter has a dedicated job to do when it comes to filtering the water, and the filter labels identify what that is, and they each have a unique color. With five different filters, it would be easy to confuse them with one another, and if that were to happen, you would not have the best filtering performance.
In addition to user-friendly attributes, the brushed nickel faucet looks very modern and luxurious. The RO system has a few safety filters built-in to avoid leaks, and the included RO tank stand ensures that the tank will stay upright, avoiding massive issues.
The tank is sleek and does not take up a ton of space under your sink. The 50 gallons of water it produces a day is massive as well. The average adult needs around 1 gallon/day to stay fresh.
What We Like:
What We Didn't Like:
8. iSpring RCS5T 500GPD Commercial Tankless Reverse Osmosis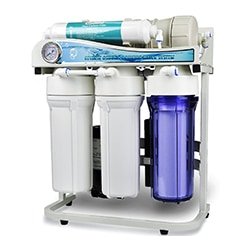 For over ten years, iSpring has been a staple within the filtration community, and products like this are the reason why.
Many RO systems need holding tanks and take up a lot of space. But the iSpring RCS5T uses a pump and water discharge system, which saves space and still provides all the benefits of a RO system.
The 5-Stage filtering system has unique levels that each target a different type of contaminant. Starting with the sediment removing layer and ending with a carbon filter, your water will come out clean, odorless, and pure.
The included chrome faucet is one of the nicest optional faucets we have seen and is a great addition to your sink and countertops.
What We Like:
What We Didn't Like:
9. Whirlpool WHER25 Reverse Osmosis (RO) Filtration System
Whirlpool is one of the most trusted names in household appliances, and they have entered the reverse osmosis water filter game with an affordable, effective product.
The three stages of filtering are less than multiple competitors, but water testing proved that this system can still hang.
The filters are some of the easiest we have installed to this point. The twist-lock technology is simple, but it feels solid, and I do not believe that any leaks will be happening. The filters have a long lifespan and will not require changing very often. The LED indicator light gives you peace of mind, as well.
What We Like:
What We Didn't Like:
10.Aquasana OptimH2O Reverse Osmosis Systems
You know, when a reverse osmosis system has a few NSF/ANSI certifications that it will be a quality product. But when it has 5 (!), you can be confident you are getting a unique product that can filter water with the best of them. It is certified by NSF/ANSI for standard P473, the only RO system that has this certification.
Standard P473 means that the water is free from any additional acid that may be in the water. This gives me peace of mind that this RO system is accounting for every little thing that could be hiding in the water.
The multiple different faucet choices are great, too. I can pick and choose which one matches my kitchen the best, making it look great while providing me with quality drinking water.
What We Like:
What We Didn't Like:
What is a Reverse Osmosis Filtering System?
Commonly referred to as a RO System, the reverse osmosis system is a unique but highly effective way to purify and filter water in your home. It uses a combination of standard water filters and usually a large tank that contains a filtering agent that removes water impurities.
The RO system is a wildly popular choice among homeowners because it combines some of the best possible filtering solutions on the market and is an additional step that will remove even more impurities from the water supply.
How Does a Reverse Osmosis System Work?
What makes reverse osmosis systems so effective is the exhaustive filtering process that the water must go through for it to make it to your glass. Water will be forced through a series of standard water filters before it heads into the membrane section where water is further purified. The specific number of filters will vary by which model RO system you have.
The membrane section will contain resin or some sort of agent that can help toxins and contaminants within the water be captured. This allows for the cleanest water possible to be let through and into the clean water reservoir.
As water goes through the membrane section or resin, the water will be split into two separate water streams. One is the stream of the purified water and is called the permeate. This is the final product of the water and will be what comes from your faucets or out of your RO system's dedicated faucet that you added to your countertop.
The other stream of water will not be making it through to you; this stream is called the concentrate. It will be discharged and drained from the system after the process is over. The concentrate stream is made up of water that contains all the toxins and impurities that the membrane removed from the water supply.
Each RO system will have a different resin or filtering membrane, but one that is shared across all models is the need to drain the wastewater that will not be reaching your faucets. This will occur periodically throughout the day and usually takes anywhere from 5-15 minutes.
RO systems have a maximum amount of water that they can handle each day. Once that limit is reached, water quality will be lowered. To get the system back to working at its highest capacity, the reverse osmosis system will refresh itself, and this will cause the resin and the filtering membrane to possess the ability to remove contaminants once again.
Reverse Osmosis Water Benefits and Risks
There is an enormous amount of benefits that can be achieved by installing a reverse osmosis water purification system in your home. There are a few risks involved, but we will discuss how many manufacturers are addressing these risks for us.
Benefits
First and foremost, a reverse osmosis water system is one of the best all-around water solutions any homeowner can buy. RO systems can remove the most difficult commonly found water contaminants. One of the biggest headaches that homeowners face is how they can remove total dissolved solids from their water supply. Total dissolved solids (TDS) are made up of chemicals that have been dissolved within a water supply.
These things can be made of organic matter that comes from the environment or inorganic matter like calcium, sodium, and sulfates. These things are especially tricky for non-RO systems to remove. They are virtually invisible because they have dissolved into the water and can be filtered in the traditional sense.
Another major benefit of the reverse osmosis process is the wonders it can do to protect your piping and household appliances. I am sure you have heard of the term, "hard water" before. Chemicals that make water hard like calcium and magnesium can cause limescale and mineral scale build-up into your pipes and appliances.
Faucets and showerheads are especially vulnerable to scale build-up and can cause issues with an overload of scale build-up. The membrane process that reverse osmosis possesses is the only solution to keep water "soft" and free of these toxins. Because the membrane is semi-permeable, reverse osmosis will remove these contaminants but still let clean water through the membrane.
In addition to the TDS removal and scale combatting qualities of a reverse osmosis system, RO can remove thousands of other contaminants as well. Most notably, heavy metals like lead can be removed by using reverse osmosis along with bacteria and cysts.
Risks
You need to make sure you address a few things that a reverse osmosis system cannot handle on its own. The most important thing is chlorine removal. The layer of the reverse osmosis membrane that removes total dissolved solids can be damaged by chlorine. Years ago, this was a concern for a lot of homeowners because chlorine was a leading cause of tastes and odors associated with hard water. Fear not, though!
Many reverse osmosis systems are now combining the RO process with a series of filters that can specialize in removing even more contaminants. You need to ensure that chlorine is removed before reaching the reverse osmosis portion of the system. This is best done by carbon filters, and many reverse osmosis filters have these included on the market. Without a clean carbon filter, you will see a decrease in the quality of the water that the RO system produces.
Reverse Osmosis Bottled Water vs. RO Machine
People are always striving for their home water supply to be made up of "bottled water quality" water. All this means is that they have filtered water that has all the benefits of RO systems and a series of filters. It is true that bottled water is healthy and is very high-quality drinking water, but there are some things to be concerned with when it comes to comparing it to a RO system.
Firstly, bottled water is EXPENSIVE. The money you would save from installing a RO system and achieving the same water results is mind-blowing. Most filters can replace over 150 single-use plastic water bottles, and if you do the easy math, the RO system will be saving you money in just a few short months.
Another thing to consider is the amount of water you get from a RO system versus bottled water. RO systems can produce 75+ gallons of filtered water every single day. Bottled water is limited to a few ounces at best. With a RO machine, you have virtually unlimited water if you are using the standard amount of water most humans use daily.
Do I Need a Reverse Osmosis System?
We get this question a lot, and what it comes down to at the end are your specific water supply and its unique characteristics. Some homes have differing levels of TDS and chlorine, while others are fighting heavy metals like lead. What it comes down to is getting a water test and figuring out exactly what you are dealing with. I typically do recommend RO systems are clients because they are one of the best options for getting the best water possible.
How Do I Choose a Reverse Osmosis System?
Water Demand and Usage
One thing to remember with reverse osmosis systems is that they are limited to a specific amount of clean water that they can produce each day. You must account for this when deciding the best reverse osmosis system for you.
They say that most people will use between 1.5-2 gallons of water per day for drinking and cooking. Most RO systems can handle over 75 gallons, so this is not a worry. But if you want a whole-home RO system to use for showers, cleaning, and daily use, you want to ensure that the system you purchase can handle this capacity for all members of your family.
Storage Tank
Because the RO process separates water into two streams, that water needs to be stored somewhere. Most systems will use a tank of some size to store water when not in use. You need to check very carefully that the size of the tank can fit in your home.
Under-sink RO systems that are designed for use with your kitchen sink will need to fit under the sink and be hidden unless you want a big ugly tank on the floor. When it comes to whole-home RO systems, these tanks are usually bigger, and some systems even use several smaller tanks to accomplish what one large one can. I cannot stress how important it is for you to account for this; you would be surprised how many people fail to.
Alkaline Re-Mineralizer
One thing many homeowners love is adding an alkaline re-mineralizer to the RO filtering system. An alkaline re-mineralizer will add valuable pH levels to your water, and it will make sure that healthy minerals found in water will be retained and restored.
When the water has a pH above 7, it is referred to as 'alkaline', and research shows that this is great for the human body. Many RO systems offer this included, and it is a great option if you decide to go that route.
Water Pressure
One thing you want to ensure is that you address is the water pressure that you will get from the reverse osmosis system. Flow rate is a hot button topic when it comes to water filtering, and RO systems are no exception to this conversation. You must remember that the water is being put through multiple staging levels that feature 0.3 Micron filters that will stop just about anything in its path. Add that to the RO process, and you must assume that water pressure may be lessened.
You may be surprised to find out that water pressure with RO systems is better than a lot of other purification processes. The reverse osmosis system uses force to make the water move through the semi-permeable membrane, which forces the water to speed up through the filtering process.
Different RO systems will be able to account for water pressure differently. You will want to be on the lookout for the term flow rate; this will tell you a lot about the RO system's water flow rate. This will be rated by gallons-per-minute or GPM, for short.
Semi-Permeable Membrane
At this point, we have discussed the semi-permeable membrane that reverse osmosis systems use during the filtering process. Each RO system will have unique materials that make up this membrane, and eventually, they will need to be replaced. Many times, this membrane material will be made up of a special resin that can absorb toxins and water impurities.
The resin will grow, and eventually, it will need to be replaced. Some of the newer models will use a membrane cartridge that acts like any other standard water filter. Simply keep an eye on it and make sure you replace them on time, and this semi-permeable membrane will work for years without the need for maintenance.
The longevity of the membrane material will depend entirely on the RO system that you decide on, but there are a few things you want to investigate. Make sure you choose a RO membrane that will last long enough to make it worth your while. Some will last longer than others, and if you are constantly replacing it, you will be spending money on new material often. Speaking of money, you want to see how much replacement membrane material is or how much a replacement membrane filter is; some can be very expensive.
Water Purity
The most important thing you can explore when deciding on the best reverse osmosis system is the water purification it can achieve. You will need to exactly what each different system can remove from your water and ensure that you choose the one that aligns closest to your water supply.
I cannot stress the importance of getting an in-depth water test completed that will show you every single toxin and contaminant in your water supply. The effectiveness of each system will be different, and instead of just looking for the "Best RO System," you should be looking for the right one.
Leak-Free Protection Fittings
I get calls all the time regarding leaks within someone's RO system or standard water filtration system. This can easily be avoided by ensuring that the fitting between all filters and water lines is securely fastened. Many RO systems now come with leak-free fittings that will ensure that no water leaks out and into your home Water damage can cause thousands of dollars in damage and has been known to ruin homes. Take the time to investigate the fittings and ensure you choose a water filter that comes with quality, leak-free fittings.
Ease of Installation
Most reverse osmosis systems are designed to have the homeowner install them. This saves hundreds of installation costs. But the reality is, some systems are easier to install than others. Plumbing terrifies a lot of homeowners, and if you are in that group, you will want to ensure that the reverse osmosis system that you purchase can be easily installed. Install times will vary based on the number of features your system has and if you purchase a whole-home or under-sink system.
Under-sink systems have very little water line connections to deal with, and they are typically much simpler to install than a whole-home system. Keep that in mind, when deciding on the type of RO system you would like. One thing I like to ensure is that the RO system will come with detailed instructions and support. Many companies are now offering free online tutorials to help you install the system, and that is a great resource for many people.
Replacement Filters
There are two important things to remember when it comes to replacement filters: longevity, and cost.
Filter life will vary from system to system, and I like to find a happy medium between filters that are longer lasting but still have the best filtering capability. Ensure that your filters will be long-lasting, this keeps your RO system as maintenance-free as possible.
You will also want to know the cost of the replacement filters before you buy any RO system. Too many times do people buy a filtering system only to realize later that the cost of a replacement filter is way too expensive! Knowing this information beforehand is invaluable.
How Do I Install a RO Purifier?
Thankfully, most RO systems are now designed to be installed by the homeowner. Install times will vary depending on the type of system you go with. Under-sink systems can usually be installed in an hour or two, and many systems now send links to instructional videos and detailed instructions to make it simple.
For under-sink systems, you will need to link the RO system's water supply line to your existing cold-water line. You will want to then prepare the area where the faucet is going to be mounted to the top of the sink or counter. Feed the waterline and the wastewater line through that opening and connect the water line to the faucet.
The wastewater line will then connect to your existing sinks drain line; this will be how the excess water gets removed from the system. Mount the filters to the cabinet wall or floor, and you are done! Make sure to sanitize everything after you are done!
Whole-home systems can be more advanced when it comes to installation. They are bigger and more intimidating to many homeowners. But really, the idea remains the same as any other reverse osmosis system available.
The biggest difference is that you will be connecting the main water supply of your home to the RO system, rather than a single faucet and sink combination. You will want to ensure that you have enough space in your utility room or area that you will be preparing and installing the RO system. Depending on where your main water supply enters the home, you may want to investigate the possibility of soundproofing your room. RO systems need to be reset and replenished, and this can be noisy.
Frequently Asked Questions & Answered
What substances do reverse osmosis systems remove?
RO systems are one of the very few filtration types that can remove total dissolved solids (TDS) effectively.
Does the RO system pose any risks to your health?
As long as you are maintaining your RO system, the health risks are minimal.
Do all reverse osmosis systems remove fluoride?
Do you reverse osmosis systems waste a lot of water?
This is the most hotly debated thing surrounding reverse osmosis water systems. Because the semi-permeable membrane will capture contaminated water molecules that require draining, there is water wasted. However, many systems can produce less wastewater than others.
 How long does a reverse osmosis system last?
RO systems are notorious for lasting many years. If you maintain it properly, you will enjoy years of purified water.
 Can I install a reverse osmosis system myself?
Of course! Many manufacturers are supplying DIY videos, 24/7 support, and detailed instructions for homeowners to be able to install RO systems in just a few hours.
Conclusion
Reverse osmosis water filtration is one of the most popular choices among homeowners from all over the world. Each home is unique, and the water supply is no different. Reverse osmosis systems can improve water that comes from any environment. With the evolution of RO systems and water filters, you now have more options than ever to provide your family with quality, healthy drinking water.
We understand that choosing the best reverse osmosis system can be intimidating. We are confident that our step-by-step guide will point you in the right direction. There is something available for every budget, space, and style, and we are confident that the best reverse osmosis system for your home is somewhere on these pages. We sincerely thank you for taking the time to read this article, and we wish you success in finding the perfect reverse osmosis water system.