Choosing the best water softener for your needs is one of the most important decisions a homebuyer can make. But there is an added stress when the water you are dealing with is coming from a well with high iron levels. Many times, when a home is primarily run on well water, there will be an increased risk of iron build up. Throughout the evolution of the water softener, we now have the option to purchase a water softener that removes iron.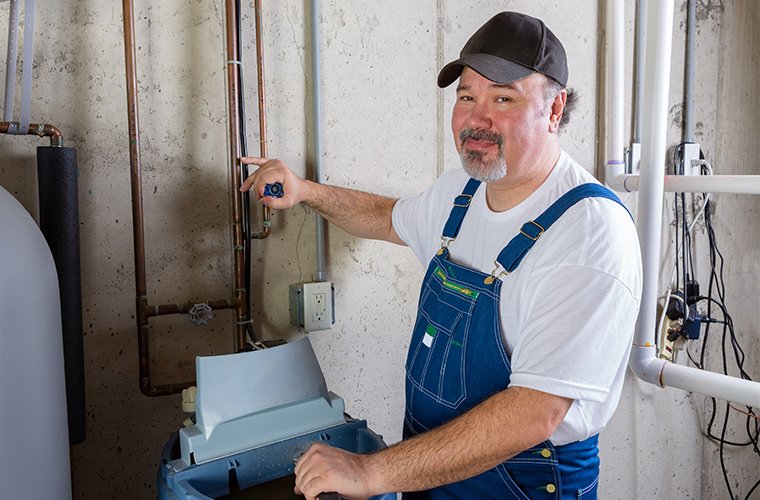 In this article, we will cover the best water softener systems for well water and hopefully help you make the best decision for your home. It is extremely important to learn as much as possible regarding your options for water softeners, especially when dealing with high levels of iron.
If you do have a well on your property, iron will almost always be present in the water. This is no reason for alarm. However, we have researched and tested numerous water softeners for well water and have come up with the best options to hopefully help you make this decision.
Recommended Water Softener for Well Water

Iron Pro 2 Combination water softener iron filter

BEST PICK

Well water iron levels have gone from 10 to untraceable with this unit.
Removes hardness to 75 gpg and can remove high levels of iron and manganese.
2-in-1 system of a water softener and an iron filter

View Latest Price

Fleck 5600SXT 64,000 Grain Water Softener

BEST VALUE

The system regenerates only when needed, meaning you'll save on operating costs.
Using an ion exchange process, the AFW unit removes elements like calcium and magnesium that cause hard water.
Durable paddlewheel meter.

View Latest Price

Pentair WS48-56sxt10 Fleck water softener

BUDGET CHOICE

Preloaded resin from the supplier is clean and hassle-free.
Easily installed by the homeowner by following included instructions.
1.5 cu. Ft. Upgraded 10 percent crosslink resin.

View Latest Price
Best Water Softener for Well Water With Iron
1. Pentair WS48-56sxt10 Fleck Water Softener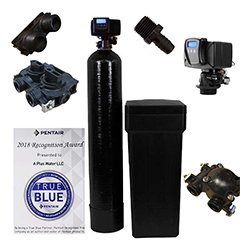 If you're looking for an iron fighting water softener, the Pentair is a great option if you're looking to maximize value. The Fleck control valve is arguably the best in its class and comes with all the features for total control of your water softener.
Not all homes come with standard pipe sizing, and one of our favorite things about the Pentair model is that they will send you the pipe connector of your choice to make installation a breeze.
We love that the resin comes stocked in the softening system; there is no messes or additional packaging that could stall you from having clean, crisp, and clear water for your home. Whether you're in the city or the country, this model will have you covered for all your iron combatting water softener needs.
The large tank size holds over 250 pounds of pelletized salt, which is an amazing capacity causing less trips to the store for salt.
What We Like:
What We Didn't Like:
2. AFWFilters 5600SXT Water Softener for Well Water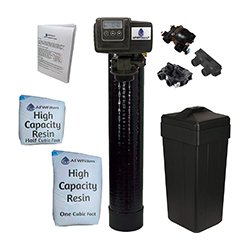 I cannot say enough good things about the installation guide that comes with the AFW water softening unit. Having in-depth videos at your disposal for easy install is worth the price of this water softener alone.
Once you install the full system and the Fleck control valve, you can program the machine and step away while the system will regenerate on its own when needed. The only thing you will have to worry about is salt!
The safety features of this AFW softener give me peace of mind as a homeowner that the system will function at peak performance, and I won't need to worry about an overflow thanks to the built-in safety float and additional overflow drain. Look no further than a quality softener that will handle its business while you handle everything else in your life.
What We Like:
What We Didn't Like:
3. iSpring RCC7 High Capacity Water Softener for Well Water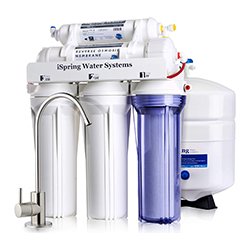 If you're looking for better drinking water and sink water without the need for a full-scale water softening unit, then look no further than the iSpring under sink model. Using a 5-stage reverse osmosis process, your sink water will come out crystal clear after the softener, and filter combo removes over 1,000 different elements that do not need to be in your water.
Another thing we love about this iSpring unit is how easy it is to change the filters out. First off, filters are available from the manufacturer at direct pricing, and they can be changed in mere minutes. On average, a filter replacement is needed every three months, but considering this small sink unit does not use salt, you can offset the cost, and besides, there is no value you can place on clean drinking water.
With the iSpring model being used specifically for sink applications, it also comes in handy when washing dishes. Water that has gone through the iSpring softener and filtration system will not leave water spots on any dishware. You will also realize very quickly how much better the water is for your skin compared to untreated water!
What We Like:
What We Didn't Like:
4. Iron Pro 2 Combination Water Softener with Iron Filter
If your water supply is coming from a well with high metal content, specifically iron, the Iron Pro 2 may be the best option for you. We mentioned that there is a specific iron filter associated with this water softening unit, and when you combine that with its unique, specialized mesh resin, you may not be able to find a better iron fighting water softener than this.
One of the few units on the market that can remove traceable sulfur from water, this model of the Iron Pro 2 is a great choice for anyone who has many contaminants in their water. At a very affordable price, the Iron Pro 2 system is a great option for those looking for cleaner water from their wells.
Watching sink water go from a brownish color to a crystal clear, pure water is an extremely satisfying feeling, and the Iron Pro 2 Water Softener with Iron Filter does just that with proper installation. It can remove over 1,000 different particles and elements in your water, promising a refreshing shower, clean glass of water, and water spot free dishware.
What We Like:
What We Didn't Like:
5. Aquasana EQ-Well-UV-Pro-Ast Well Water Iron Filter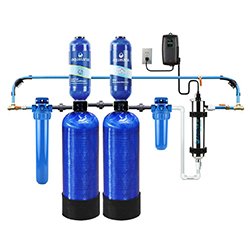 The most customizable water softener in our list, the Aquasana is not just a water softening system but entire water purifying, filtering, and softening system all in one. Using the saltless technology that Aquasana has developed on its own, this unit uses customs filters that easily replaceable and affordable.
While this unit may be on the higher end of price, it is the only one on the list that features a UV light purification technology that adds additional cleaning elements to your water tank. This is also the largest tank system we have using dual tanks to lessen the amount of time between regenerations.
The Aquasana system is not your typical water softening system, while it does do a great job at softening water, it is also a purification and filtration system all rolled into one. It can clean your sink and shower water of 99.9% of contaminants, all while providing a dedicated drinking water line for clean drinking water every time.
What We Like:
What We Didn't Like:
6. DuraWater 80K-56SXT-10AL 80K Water Softener System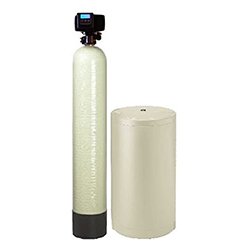 The Durawater model is a classic design and technology that has been proven time and time again by homeowners all over the world. The included 10% crosslinked resin is better for the system tanks due to needing fewer regenerations because the resin can capture more particles than a typical 8% crosslinked system.
The LCD display touchpad could not be simpler, even for folks that have extremely little experience with technology or plumbing. The price point is just right as well, but you will see as you upgrade capacity from 24,000 GPI to their 80,000 GPI model, the price will increase, but that is to be expected within the water softener world.
What We Like:
What We Didn't Like:
7. On The Go OTG3NTP3M Portable Water Softener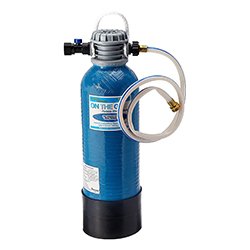 If you are looking for portable, on the go water softening and purification, the OTG is the way to go. Designed for campers and RVs, all our test runs with this resulted in nothing but satisfaction. If you have an on-board water supply, this can be hooked to that to provide clean and softened drinking water and give owners peace of mind that water will not be a worry.
The standard size of 18,000 GPI is plenty for an RV or camper usage as well; we never ran out of water during our weekend trial in the mountains.
Using common table salt rather than pelletized salt, carrying regeneration salt is much easier than most water softeners for this application. You can store this machine anywhere on your vehicle or campsite and weighing only a mere 18 pounds; it is a must-have for RV users.
What We Like:
What We Didn't Like:
8. Tier1 Essential Series 48,000 Grain Water Softener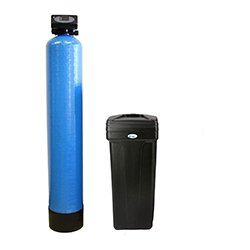 Boasting one of the highest flow rates we have seen, the Tier 1 is a great choice for people who want to keep their water pressure up, which is a concern of many homeowners. Another concern for many homeowners is finding a water softening system that does not take up a ton of space in their utility closet or basement.
The Tier 1 takes up four less square feet of space than the typical water softening unit, all while providing the same features as the big players in the water softening game.
It comes with a standard capacity of 48,000 GPI, which is more than enough for the typical family of four. On average, a four-member family needs a unit that can produce 33,000 gallons in a day, and this unit covers that and a lot more.
What We Like:
What We Didn't Like:
What To Consider Before Buying A Water Softener for Well Water
When choosing the best water softening unit for your home, several questions need to be answered. Every situation is different; just like every home is different. There several different questions you must answer in order to find the best water softener for your home.
Budget
Water softening systems can range from a few hundred dollars to thousands. There are numerous features and added programming capabilities that you can purchase, but some of those are not necessary, they are nice to have, but you can still get a quality water softener that does that job at a more affordable number.
Water Hardness
To determine the best water softener for your home, the first step that we need to take is to get an idea of how hard the water is in your home. This will you exactly what elements, toxins, and chemicals are in the water and, most importantly, the grains per gallon (GPI) within your water supply.
You can figure out these levels in a few different ways. If you are connected to a city water supply, you can request a water report from your city itself, but if you are running water from a well or other supply, you can purchase a water testing kit from several different sources.
Depending on the results of the water test, you can determine the rating of the water softener you need by looking at your water's GPI.
Rating
If you have a lot of sediment and grains that need to be removed from your water, you will want a higher rated water softening unit. For most household applications, water softeners come with a capacity ranging from 24,000 GPI to 80,000 GPI, the higher the number, the more grains per gallon the softening system will remove.
If you are on a city water supply, this will typically be a lower rating than someone who is using well water or an alternative source.
Usually, water coming from a well has a higher number of metal elements such as iron, which is a tough element to filter out, and therefore, the need for a water softener with 80,000 GPI capability may be needed.
Capacity
If you are looking for a softening system for your family home, your needs will be different than someone who is looking to get a water softener or filtration system for a summer home or maybe even an RV or camper. According to most studies, the average human being uses 80 gallons of water per day.
You will need to combine the number of people in the home and the GPI in your water from the testing to determine the perfect unit for your home. The typical family of 4 uses 33,000 GPI of softened water daily, keep this in mind when starting your search for the best water softener for iron.
Special Situations
As we mentioned before, every situation is different. If you are living in a country home with an old well, your water test will most certainly come back with different levels of sediments than someone living in an urban environment.
If your water has a high amount of lead or something similar, you may want to gear your research toward iron fighting water softeners or models that come with specific add-ons to fight high levels of metal or contaminants.
This video has wonderful graphics and a decent explanation of the factors we discussed above. Watch it to get a good idea of the best water softening unit for your home.
Frequently Asked Questions And Answered
Why do I need a water softener?
When water is considered "hard," this means that more elements and toxins in the water that can cause issues with your water supply. Softer water is healthier and better for skin, drinking, and glassware.
Do I need a professional to install my water softener?
Many models are designed to be installed by the homeowner, even if you have little to no plumbing experience. If you're not comfortable with installing it, then getting a professional is always the right decision.
Is there any financial benefit to having soft water?
Hard water is often more damaging to your piping and appliances. Eliminating limescale buildup will early in the life of your appliance make it last longer.
What does the resin in a water softener do?
The resin is there to act as a buffer between the water and hardening particles in the water. The resin captures the hardness particles while the clean water is let through to your water supply.
Conclusion
Choosing a water softener, especially when dealing with well water and high iron levels, can be a daunting task, especially for new homeowners. Using our guide, you will, at the very minimum, have a great place to start your search, and hopefully, you will find the right water softener in our in-depth list above.
With technology constantly evolving, it can be difficult to know what the newest and 'best' water softening units are on the market, but at this point, we know what works, and we have so many stories about people whose lives have been changed by the information above, I hope we can aide in your search too.