Finding the perfect solution to remove sediment and contaminants from your well water can be tricky. Well water is notoriously very high in sediment, iron, and other total dissolved solids that can cause harmful effects to your health and home.
Luckily for us, more companies are gearing their products toward effectively filtering well water and the contaminants that come with it.
Because well water is so high in sediment and heavy igneous traits, many homes rely on bottled water for drinking and hard, contaminated water for everything else. Thankfully, there is no longer a need to settle for this lifestyle. Now dozens of different filtering products are specifically designed to remove harmful toxins from well water.
Throughout this guide, I will review some of my favorite sediment filters for well water, along with a handy buying guide that should point you in the right direction. Not all well water is created the same; your water's unique traits and characteristics will guide us to the best sediment water filter for you.
Recommended Sediment Filter for Well Water

Aquasana Whole House Sediment Filter System

BEST WHOLE HOUSE

Great option for those who are dealing with a ton of rock.
Different Micron ratings. This gives you the flexibility to find the best product for you.
The installation is virtually tool-free and takes minutes.

View Latest Price

iSpring WSP-50SL Spin Down Sediment Water Filter

BEST SPIN DOWN

You can choose the Micron size from 5 different options.
This spin down sediment filter features an extremely sturdy design for impressive reliability
The sediment filter can be flushed by twisting the valve on the system, making it easy to clean.

View Latest Price

EcoPure EPWHE Sediment Water Filter

BEST VALUE

Its excellently-designed encapsulated filter chamber means you can change the filters without getting in contact with the filter media
Certified filter by NSF/ANSI, which offers peace of mind with the purchase
This system is very compact, you can install it virtually anywhere.

View Latest Price
Best Sediment Filter for Well Water Reviews
(Featured) – SpringWell Spin-Down Sediment Filter
Everything you need to install the system is included in the base package. The filter life competes with the best in the business, and if you take care of your system and change the filters on time, you will be able to enjoy the water from your Aquasana for over ten years.
The additional package options will allow you to add a water conditioner and even add a UV-Light option to help reduce more bacteria.
---
1. iSpring WSP-50SL Spin Down Sediment Water Filter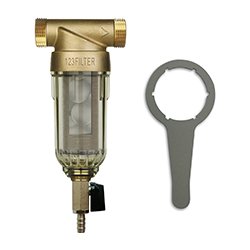 The iSpring pre-sediment filter is a great option for those dealing with a ton of rock, rust, and other solid contaminants.
It features a stainless-steel fine mesh barrier that grabs any impurities before the water reaches the spin-down filter. The spin-down filter is easy to use and is a great feature to ensure that your water filter is working at maximum capacity.
By redirecting the valve to be in line with the filter, the water will flow and clean the filter from top to bottom. This process will elongate the filter life and allow sediment-free water for months.
If these filters are not flushed every now and then, you will see a decrease in filter effectiveness. Luckily, the iSpring pre-sediment filter handles this dirty job for you.
What We Like:
What We Didn't Like:
Other Notable iSpring Sediment Filters
iSpring WSP100ARB Spin Down Sediment Water Filter, Reusable with Touch-Screen Auto Flushing Module and Built-in Housing Scraper, Brass Top Clear Housing, 100 Micron
iSpring WGB32B 3-Stage Whole House Water Filtration System w/ 20-Inch Sediment and Carbon Block Filters
iSpring WSP100GR Reusable Spin Down Sediment Water Filter 100 Micron with Built-in Housing Scraper, 360° Rotatable Head, Pressure Gauge, Blue
iSpring WSP100ARB Spin Down Sediment Water Filter, Reusable with Touch-Screen Auto Flushing Module and Built-in Housing Scraper, Brass Top Clear Housing, 100 Micron
iSpring WGB32B 3-Stage Whole House Water Filtration System w/ 20-Inch Sediment and Carbon Block Filters
iSpring WSP100GR Reusable Spin Down Sediment Water Filter 100 Micron with Built-in Housing Scraper, 360° Rotatable Head, Pressure Gauge, Blue
2. Culligan WH-HD200-C Whole House Sediment Water Filter
Growing up, I had a Culligan water filter tank in my family kitchen. It was my first experience with water filtration, and I have trusted them since those days many years ago.
If you are on the search for a reliable sediment water filter made by a company with a decades-long reputation, Culligan should be on your list. This whole-home sediment filter is designed to be extremely strong but easily installed by any homeowner.
The first thing you will notice is that there is no mounting bracket. The bracket is embedded into the filter housing. This was nice for installation because it allows the filter to be installed virtually anywhere on the waterline.
There is a blue valve on the top of the filter that you can turn to select where you want the water to go. It is as easy as turning that valve if you want the water to bypass the filter for any reason. The filter does a great job removing sediment and other hard metal particles.
If you want to install a filter that will eliminate harmful toxins and takes less than an hour to install, investigate this one.
What We Like:
What We Didn't Like:
3. EcoPure EPWHE No Mess Home Water Sediment Water Filter
The EcoPure whole-house sediment filter is of great value. This system is compact and affordable but packs a punch. The encapsulated filter chamber is an excellent design, it allows filters to be changed without touching the filter media.
This allows you to keep your hands clean when removing the filter and will not add any unwanted contaminants to the filter while adding one.
The filter life of 6 months is solid for a sediment filter and falls in line with many comparable products and their filter longevity. This filter is certified by NSF/ANSI for several different standards and by simply having this stamp of approval, it gives you peace of mind that you are getting a great product.
We loved several factors about the EcoPure sediment filter, and many of them will benefit all homes.
What We Like:
What We Didn't Like:
4. Rusco 1-1/2" Spin Down Separator Sediment Water Filter
Rusco has been providing consumers with sediment-free water since the 70s. It is easy to see why. When finding the most versatile and adaptable sediment filter, look no further. This small, light, and compact sediment filter is designed to remove sediment and sand from not just well water but plenty of other water sources. It weighs less than 2 pounds and can work with any water line.
One everyday use for this system is for gardening and farming. Most times, hose water is high in metal, sand, rust, and solids. Installing a spin-down filter like the Rusco will add valuable minerals to your plants and farming needs.
If you rely on abnormal water supplies or maybe even have a farm, this filter was designed with you in mind. It can be installed quickly into any garden hose, lake water, and well water supply. It removes not only sediment but handles metal, rust, and other common contaminants with the best of them.
What We Like:
What We Didn't Like:
5. Transparent Big Blue Housing Water Filter System
Simply put, the Big Blue Filter Housing is a tank. I have no worries that this thing will break or have any durability issues.
The polypropylene is super strong and shatter-resistant, which is great for installing and uninstalling this system.
The included mounting hardware is just as robust and easily attaches to a wall with four included screws. The brass inlet and outlet valves are a nice touch, too. Many comparable systems use plastic for the inlet/outlet valves that tend to leak. Plus, the brass is suitable for the water!
Regarding the filtering capability of the Big Blue, the pleated filter technology does a great job capturing sediment and other hard objects.
The pleats will trap rock, sand, dust, and more in the folds, while the water that does get let through, will go through a 5 Micron filter to remove more minor impurities that did not get trapped by the pleats.
What We Like:
What We Didn't Like:
6. 3M Aqua-Pure Whole House Sediment Water Filter System
When it comes to reliability, there is nothing that compares to 3M. There is a reason that so many homes and industries rely on their products every day, and the Aqua-Pure whole-home filter is precisely why.
It is certified by NSF as an established sediment reducer, but it also does a number on other commonly found household water contaminants. We immediately noticed that the smell and tastes associated with chlorine and Sulphur were no longer present in the water.
In order to get your system up and running, you do not need any prior plumber experience. Because of the slender housing and the product's mobility, it is ultra-easy to install into most homes.
The quick-change filter technology is revolutionary for the whole-home water filter world as well. You will never have to touch the filter material for installation or removal. This will elongate the life of the filter after installation and keep your hands free from any sediment when you are removing the filter.
What We Like:
What We Didn't Like:
7. Express Water Whole House Sediment Water Filter
We mentioned in the introduction that more and more water filter companies are focusing on ensuring homeowners can install their own systems. The Express sediment filter is an excellent example of this. Each filter and filter housing are marked distinctly with all the information you need to tell you where it goes and that specific filter's longevity. The steel mounting rack is tough as nails, too! You will not need to worry about it bending or breaking during operation.
When it comes to the Express sediment filter's ability to remove contaminants, you can put it up there with the best of them. In addition to sediments that are commonly found in wells, the Express system also proved to be effective when combatting thousands of other toxins.
Most notably, the reduction in the amount of lead present was fantastic. Overall, the Express whole-house filter is an effective affordable model with a good all-around job with well water systems.
What We Like:
What We Didn't Like:
9. GE SmartWater FXHSC GE Replacement Water Filter
GE is known for making a wide variety of respectable, affordable, and all-around quality products. This ultra-affordable replacement filter does everything it is supposed to do, and for the price, it is hard to ask for much more.
The pleated filter design works with well water contaminants like sand, dirt, and stilt. Because the pleats are folded upon one another, the sediment grains are trapped in the folds and do not reach the next level of filtration.
The 30-Micron filter ensures that you are removing these large elements from your water but also helps with invisible toxins like chlorine and some bacteria. The water was some of the best we tasted throughout our testing process and we were really impressed with the consistent flow rate.
Many comparable sediment filters tend to slow down after just a few days but not the GE, it stayed strong and steady for weeks.
What We Like:
What We Didn't Like:
What Does A Sediment Filter Do Too Well Water?
A sediment filter for well water is a uniquely designed water filter that is engineered to stop any sand, dust, dirt, rust, silt or any other solid that can be found in well water.
Water supplies that rely solely on well are notorious for testing high in these areas, and it is strongly suggested to install some sort of water purifier or filter before drinking that water. Because wells are essentially just big holes in the ground that drill down several feet, particles from the earth are more likely to float in the water.
Well water is often the only choice many homeowners have, especially those who prefer to live in rural areas with very few neighbors or no city water supply available.
Years ago, homeowners in this situation had no choice but to drink the water and use it for all in-home purposes. Filtering was either extremely expensive or ineffective enoug