Salt-Free water softeners are quickly becoming one of the most popular water softening solutions. There are many reasons why they are so popular, and as this technology evolves, you will see advancements that make them even more effective than they currently are.
The unique thing about the best saltless water softeners is that they are entirely maintenance-free and do not require electricity. These systems are ultra-appealing to consumers compared to salt-based systems because there is no need to add salt every few months and no need to discharge water with no salt water softener.
As salt-free technology has evolved, more and more systems are entering the market, and choosing the best salt-free water softener for you needs could be daunting. Throughout this guide, I will tell you about my favorite salt-free systems and answer some questions in our buying guide to help you choose the perfect one.
Table of Contents
Quick Overview of My Top 3 Salt-Free Softeners:
| Feature | SpringWell Salt-Free Water Softener | KIND-E 2000 | Aquasana Salt-Free Water Conditioner |
| --- | --- | --- | --- |
| Price Range | $$$ – Check Price | $$ – Check Price | $$ – Check Price |
| Technology | Template Assisted Crystallization | Electromagnetic Technology | Scale Control Media (SCM) |
| Flow Rate (GPM) | 12 GPM | 20 GPM | 7 GPM |
| Installation Difficulty | Moderate | Easy | Moderate |
| Maintenance | Low | Low | Low |
| Warranty | Lifetime | 10 years | 6 years |
| Ideal for Household Size | Medium to large | Small to medium | Small to medium |
| Effectiveness on Hard Water | High | Moderate-High | Moderate |
| Certified & Tested | Yes (NSF/ANSI 61 & 42) | No | Yes (NSF/ANSI 42 & 53) |
Salt-Free Water Softener Compare Chart
Best Salt-Free Water Softener Reviews
1. SpringWell Salt-Free Water Softener (Most Reliable/Longest Lasting)
Best For: The SpringWell Salt-Free Water Softener is an excellent choice for homeowners looking for a simple, environmentally-friendly solution to hard water problems. This system can handle a water flow rate of up to 12 gallons per minute (GPM), making it a suitable option for families with up to 4-6 members. The SpringWell system uses Template Assisted Crystallization (TAC) technology, effectively preventing scale buildup without salt or chemicals. This feature makes it a preferred option for individuals concerned about sodium intake or the environmental impact of salt-based softeners.
Learn More and Use Discount Code: WFC5 to Save 5%
This salt-free water softening system that SpringWell offers is loaded with everything one could want out of a salt-free system. It comes with everything you need to install the system yourself, saving money and allowing you to provide your entire home with clean water sooner. In short, I love my system and have been using it for almost two years now in my main house.
The installation package includes mounting brackets and pre-filter supplies, so you do not have to go out of your way to find and add a sediment filter.

In terms of performance, the SpringWell system is one of the highest-rated salt-free systems on the market for a reason.

The included pre-filter does a great job with water supplies that are high in sediment like sand, gravel, and other larger contaminants.
As water is brought into the system after the pre-filter, the softening system will condition the water to "break-up" hard water particles, which means that these hard water particles cannot attach to anything like pipes or faucets. The steep decline in scale build-up is worth the price of this unit; it virtually removes all of it!
What We Like:
What We Didn't Like:
Exclusive WaterFilterCast Discount: Get 5% Additional Discount – Use Code WFC5
2. KIND Water Systems E-2000 Whole House Salt-Free Softener (Easiest To Install)
Use Code: wfc5off to get 5% off all KIND Systems
Best For: The E-2000 Whole House Salt-Free Softener is a high-capacity system that accommodates larger households and those with higher water usage requirements. With a flow rate of up to 20 GPM, this system is ideally suited for households with 6-8 members or properties with multiple bathrooms. The E-2000 utilizes a combination of Granular Activated Carbon (GAC) and NSF-certified Scale Prevention Media (SPM) to provide efficient softening and filtration without the use of salt. This makes it a great option for eco-conscious families or individuals living in areas with strict regulations on salt usage in water treatment systems.
Learn More and use Discount Code: wft5off to save 5%
The Kind Water System E-2000 system is one of the most sophisticated water-softening systems on the market that does not rely on salt. It combines the salt-free water re-ionization process with a pre-sediment filter rated to handle anything larger than 10 Microns.
This combination improves homeowners' overall water quality and helps your appliances last longer. The most important appliance you need to worry about for limescale is your hot water heater.
Most water heaters feature a device that helps descale water as it flows into the water heater, but even the best water heaters have trouble avoiding residue build-up on these nodes.
This system will elongate the life of your home's water heater and every other appliance. The salt-free system and sediment filter combination will stop the limescale build-up within your pipes and water supply.
The installation process is straightforward, thanks to KIND's in-depth instructional videos and detailed installation booklet.
What We Like:
What We Didn't Like:
Here are some of the installs I have performed of the E-2000 over the years. These are some of the most straightforward systems out there. If you are handy in any way then you shouldn't have trouble installing this on your own.
3. Aquasana Salt-Free Water Conditioner (Best For Small Spaces)
Best For: The Aquasana Salt-Free Water Conditioner is a versatile and compact system that effectively addresses hard water issues while also providing excellent filtration capabilities. This system can accommodate a flow rate of up to 7 GPM, making it perfect for families with up to 4 members. The Aquasana system employs a unique Scale Control Media (SCM) technology that alters the structure of hard water minerals, preventing scale buildup without the need for salt. In addition, the system's dual-tank design allows it to filter out harmful contaminants such as chlorine, heavy metals, and volatile organic compounds (VOCs). This makes the Aquasana Salt-Free Water Conditioner a top choice for health-conscious individuals seeking both softening and filtration benefits in a single system.
Learn More
First off, we are huge fans of the size of the unit. It is so small and compact that you can fit it into virtually any space you want to install this system. While the instructions are not the best in the business, the installation process is simple because this system has so few parts.
The Aquasana has some of the best water testing results regarding water softeners that do not rely on salt.
Most notably, chlorine is completely removed from your water supply, which is a tough contaminant to kill. We were also very impressed with the flow rate of all the faucets throughout the house.
This is one of the biggest complaints that we get, is the reduction in water pressure after installing any water softening or filtration system.
What We Like:
What We Didn't Like:
4. Aquios AQF220 Whole House Salt-Free Water Softener
The Aquios Salt-Free water softener is one of the most affordable options on our list. With a price tag coming in under $500, you are getting great value for the price with this system.
It combines the water ionization process that you will find in most salt-free systems with a 5-Micron filter that can remove chlorine and other large sediments.
The water softening process takes hard water particles into the device and sequesters them, which prevents them from sticking to a surface. This is an excellent feature for removing scale build-up and lime deposits from your pipes and appliances.
The 5-Micron filter boasts a 40,000-gallon maximum capacity and will retain solid water pressure throughout its life.
If you are looking for a water-softening system that does not require any maintenance and does not require water to be discharged, this is the system you should have your eye on.

Once it is installed, you will not have to worry about any softening system maintenance, just keep an eye on the filter. Additionally, because it does not require electricity, it is free to operate, and you will not see any increase on your monthly water bill!
What We Like:
What We Didn't Like:
5. APEC Water Systems Whole House Salt-less Water Softener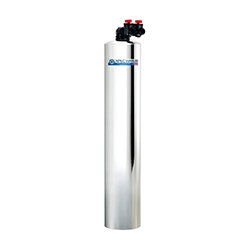 One of the biggest complaints we get with salt-based water systems is the additional sodium that homeowners experience in their water supply. While some sodium is good for you and your drinking water, there is a point where you do not need any more sodium in your water.
The APEC salt-free water softener does not only avoid salt pellets altogether; it does a wonderful job of disrupting sodium and other chemicals that may sneak their way into your water supply.

The APEC system is easy to install, and the company is a joy working with. They do a great job of providing environmentally conscious water solutions to their salt-free softeners and all their products.
Some folks have complained to us that their untreated water has a somewhat slimy feeling to it, and if you are dealing with this, you know exactly what I am referring to.
With the APEC system, this will go away, and you will notice that the water's odor and taste will improve. Overall, the APEC system and all its optional accessories are a great solution for your water-softening needs.
What We Like:
What We Didn't Like:
6. Tier1 Essential Certified Salt-Free Water Softener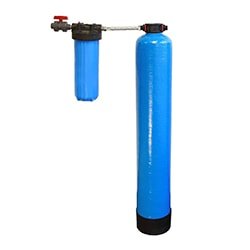 Tier1 is an extremely popular salt-free water softener for various reasons that would make any homeowner happy. For starters, I believe that this is the only water softening device we have reviewed that is certified by NSF/ANSI for standard 62, ensuring that you are getting a device that will improve your water quality.
Before installing this system, you will know that you are about to improve your entire home's water quality. Speaking of installation, this is one of the easiest systems to install that we have reviewed thus far. It is a simple yet effective product that immediately improves your water quality.
One of the things we appreciate the most about this system is the wonderful job it does removing chlorine from your water supply.
After installing, we saw virtually zero traces of chlorine, one of the toughest contaminants for salt-free water systems.
In addition to chlorine, it also does a wonderful job dealing with metals such as iron, magnesium, and copper. The pH level of the water is also something we like to be aware of, and the Tier1 System does a great job of maintaining a pH between 6.5 and 8.5.
What We Like:
What We Didn't Like:
7. OneFlow + Salt-Free Scale Prevention and Water Softener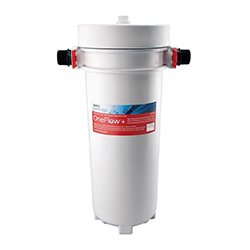 The OneFlow salt-free softener is one of the most popular salt-free solutions available on the market. Due to its small stature, it is easy to fit into even the smallest spaces you could imagine.
Do not let this fool you though; even with its small size, it is one of the most effective salt-free softening solutions we have seen. Looking at it from afar, it is one of the simplest designs that we have seen, but there is a lot going on in that cartridge.
By combining the TAC process unique to the OneFlow system and the 20-Micron sediment filter, you get great results for water testing and the main benefit, scale buildup. Because no electricity is required, this system will save you around $300 per year in operational costs based on your typical 4-person household and a 75 gallon per day maximum.
What We Like:
What We Didn't Like:
8. AO Smith Whole House Salt-Free Water Descaler
We love AO Smith products and this salt-free water softener is one of their best products. It is a small, compact system that removes sediment buildup and limescale from your appliances and water pipes.
It does a beautiful job maintaining a stable pH balance within the water supply and will make any water supply healthy for everyday use.
The one thing that sticks out about this system is its ability to work with a water supply that relies on a well. Many salt-free water softeners have a maximum amount of grains per gallon that they can manage, and the AO Smith does not have this shortfall.
Well water is among the most difficult water supplies to deal with, and out of all the systems we have reviewed, this is the best one we have found.
Overall, the AO Smith salt-free conditioner is among the most reliable systems we have seen.
What We Like:
What We Didn't Like:
Do Salt-Free Water Softeners Actually Work?
The evolution of the salt-free water softener has made it easier and easier to rely on a salt-free system for all your water softening needs. While it is true that several aspects of the salt-free system are not as effective as the traditional salt-style water softener, they can be relied upon if you are looking to ensure that your water stays healthy.
Salt-free water softeners work entirely differently than their counterparts. The salt-free water softener does not necessarily remove the water hardness particles but rather conditions the water to be unable to bind to surfaces.
One of the biggest issues you will see with hard water is the scale buildup on appliances and in your water pipes. Salt-free water softeners will not remove these hardening particles from the water, but they will rather convert them to a hardness crystal that cannot bind to surfaces like water pipes and showerheads.
Overall, the salt-free water softener works if you are looking to improve the longevity of your pipes and appliances. It also does condition water so that minerals are still in the water supply, but it is better for ingestion by not binding. You will not notice a drop in grains or TDS counts with a salt-free system, but overall, it positively affects your water supply.
Salt Based Water Softeners vs. Salt Free Water Softeners
Since the salt-free water softener became available, this has been a hot-button question in the water filtering community. The tried and true salt-based water softener system has many advantages, but do not sleep on the salt-free water softener option; it also has excellent benefits.
Saltless Water Softener
Maintenance-Free
Saltless water softeners are most known for being entirely maintenance-free. Compared to the systems that rely on salt, they are much more user-friendly.
Gone are the days when you need to constantly check your salt tank, realize you are running low, and then head to the hardware store and spend big money on salt. Because the hardening particles are not being removed by salt, there is no need to discharge any water with these systems either. You will not waste any energy or water with a salt-free water softener, which is a big draw for many people.
No Electricity Needed
Because the salt-free system does not require an ionization process like the salt-based water softener, no electricity is needed to run these systems. This is great because you are not only saving money on the electric bill but also conditioning your water naturally so you will waste any unnecessary energy.
Salt Water Softener System
"Cleaner" Water
If you are dealing with a municipal water supply that is high in contaminants such as lead, chlorine, or other heavy metals, the salt-based system will be the best solution to combat this.
Check Our Best Water Softener Reviews – (Tested In 2023)
The salt envelops water contaminants as water is brought through the system and removes them while allowing the clean water to pass. You will also notice that the water will produce more suds and bubbles in the shower and will help keep your skin moist and free of dryness.
Appliance Longevity
Salt-based water softeners are extremely popular for their ability to help appliances and faucets stay clean from scale build-up. Chlorine and other insoluble contaminants can leave sticky mildew and residue in your water delivery system, and the best way to combat this is with a solid water filtration system, like a salt-based water softener.
By keeping pipes and faucets clean of scale build-up, your appliances will last much longer than without a softening system.
Types of Salt-free Water Softener
There are multiple options to choose from when deciding on the best nonsalt water softener. It is important to remember that salt-free water softeners are an option that allows for water to be conditioned to reduce limescale and other build-ups.
Therefore, salt-free water softeners are often combined with other water filtration styles that allow you to choose the best solution for you. These things include multi-stage filtering options and electronic water descalers that are considered to be salt-free water softeners.
Salt-Free Water Softeners and Filtering Combinations
There are several water softening solutions available that allow you to combine the salt-free water softening descaling qualities with water filtration that will remove contaminants in your water.
This is a very good solution if you are short on space or wish to improve the water quality outside of the re-ionization process that the salt-free water softener will accomplish. These systems will combine the ionization process with several filters that better remove solids and other heavy metals.
Electronic Descaling Options
In addition to all the other water softening options available, another solution that works well as salt-free water softening option is the electromagnetic water softener. These systems are attached to the water pipe.
As water flows through, they provide a jolt of re-ionization that breaks up water molecules into smaller parts, so contaminants will be removed from the water molecule. Because the electrical destabilizes the ions, the minerals do not have anything they can attach to. These help a ton with reducing limescale buildup among your appliances and pipes.
Advantages and Disadvantages of No Salt Water Softeners
Advantages
One can gain several advantages from installing a salt-free water softener, otherwise known as a descaler.
The system is proven to be effective at removing scale from your water and helping elongate the life of your appliances. Most importantly, the water heater. Water heaters are expensive and if you are running untreated water through there consistently, you are leaving yourself open to issues with erosion and water pipe scale build-up.
Because a salt-free water softener conditions the water at a molecular level, a simple descaling device will help save your appliances from an early visit by the plumber.
The other thing to remember is that salt-free water softeners are entirely maintenance-free. They do not require the lugging around of salt bags or constant refilling. Simply install and if your salt-free system includes a filter or two, make sure those are clean and replaced and that is it!
Disadvantages of No-salt water softeners
In terms of disadvantages, there are some things that you may need to consider before installing a salt-free water softener.
For starters, the descaling properties of the salt-free system only work with water that is running. The tiny amount of energy produced from the running water is required for the descaling to occur.
The ions within the water need to be moving to re-ionize; therefore, this water-softening solution will only work on running water. Additionally, salt-free systems can handle some limitations to the water hardness.
Most systems will not be effective if your groundwater exceeds 75 grains per gallon. If this is the case, you will need a more sophisticated solution or combination of a salt-free and pre-filter systems.
Saltless Water Softener Related FAQ
Are salt-free water softeners effective?
Depending on your expectations, the best nonsalt water softener can be highly effective. They are best at removing limescale build-up from your pipes and appliances, but it is important to remember that this water softening solution does not technically remove contaminants. It conditions the water at a molecular to be safer for consumption.
What are the most trusted salt-free softener brands?
We review a lot of water softening systems and have a great insight into the best brands. When it comes to salt-free water softeners, we highlighted plenty of brands in our reviews earlier on in the article. Pelican seems to be one of the most popular, and it has great reviews by nearly all users. We also really liked installing the OneFlow system; it is simple, affordable, and highly effective.
Do salt-free water softeners remove iron?
Technically, no it does not remove anything from the water on its own, but with a solid filtration combination system, it will remove iron and other contaminants.
With a salt-free water softener, it will still be healthy for consumption, but the contaminants will still be there in theory. The re-ionization process will disrupt the molecular structure but will technically not remove it.
Are salt-free water softeners healthy?
Overall, they are healthy. The water you consume from a salt-free water softener will be healthy to consume and healthier for your hair, skin, and nails. There are other ways to improve the water to be even healthier with a combination of salt-free conditioning and water filters.
How much does a salt-free water softener cost?
This will depend on how sophisticated the system you choose is. There will be more a higher cost associated with systems that have more features, but on average, a salt-free water softener will cost anywhere from $400 upwards to over $1500 for the top-of-the-line system.
Conclusion
Salt-free water softeners are an excellent solution to help elongate your appliances' life and improve your water quality.
When choosing the best non-salt water softener for you, there are several factors that you should consider, including the quality of your raw water and what you hope to achieve out of your new system.
The total dissolved solids (TDS) and grains per gallon of your water supply will greatly affect which system you should go with.
However, we are confident that the information provided to you in this article will help you find the perfect salt free system for you.
Between our in-depth reviews and the information outlined in the buying guide, all the information you to choose the best saltless water softener system is right here. We thank you for tuning into this article and wish you the best of luck in your search for the perfect saltless water softener.