If you use bottled water regularly, it is always essential to know what different water bottle brands offer you; one such remarkable quality is if reverse osmosis was used when purifying the water. Reverse osmosis is when a permeable membrane separates ions and other unwanted larger molecules from water to be safe to drink.
This blog post will discuss why reverse osmosis is used in bottled water, its pros and cons, and share a few qualified brands that use reverse osmosis for water purification.
Why Do Water Brands Choose Reverse Osmosis in the First Place?
Through the reverse osmosis (RO) process, ions and other unwanted substances such as fluoride, are separated from the water via a partially permeable membrane by applying pressure to change the direction of naturally occurring osmosis. The result is purer drinking water than any other method available today. This makes RO an ideal choice when dealing with tap water or healthy water in areas without access to clean freshwater sources.
Reverse osmosis has removed 99% of substances dissolved in water, which can mostly be chemicals like chlorine or toxins. This also softens the water at the same time.
Benefits and Drawbacks of Reverse Osmosis (RO) Bottled Water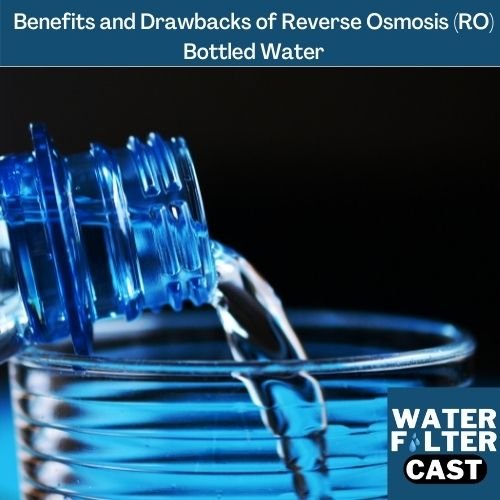 Using reverse osmosis has many significant advantages;
As I mentioned before, reverse osmosis removes 99% dissolved substances in water, making your water bacteria resistant and thus safe to drink. These include chlorine, a common disinfectant found in tap water. When chlorinated water passes through the membrane, some chlorine gets trapped inside the membrane as a chemical reaction occurs between the two elements. As a result, the amount of free chlorine decreases over time.
Since Reverse Osmosis removes almost all dissolved substances, water's taste, and odor increase, making the water more appealing to drink. Drinking more water is also beneficial for our bodies to maintain their hygiene, making a double point.
Just like every other thing in the world, Reverse Osmosis also comes with a few drawbacks;
Since Reverse Osmosis removes most of the substances dissolved in normal water, it also removes many important minerals like iron, magnesium, or calcium that are needed for our bodies. But of course, most water bottle companies tend to re-add these removed minerals by a special ionization process.
Some people may find the taste of RO water too bland. If you're not fond of plain-tasting water, then try adding flavors like fruit juice concentrates or herbs into the water bottle before drinking or try a flavored water bottle.
Another problem that Reverse Osmosis causes is the pH change. Reverse Osmosis removes substances in the water that might be maintaining the pH level of water, thus making the pH decrease to 4-6pH levels, but of course, this acidity level wouldn't be that dangerous for consumption.
Brands Of Water That Use Reverse Osmosis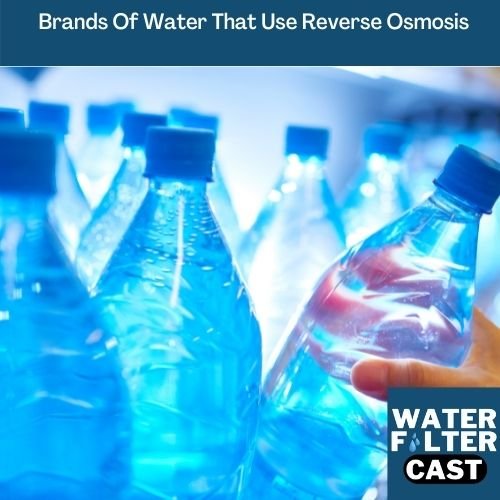 Now let us look into a few bands that use reverse osmosis to purify their water. This page lists only those companies which have been verified as using Reverse Osmosis for purification purposes. Some may also be filtered or treated with other methods such as carbon filtration. Please note: this does not include all RO-treated bottled waters available on the market today; it only consists of a few brands that you can buy online and have sent directly to your door.
Dasani Water – Available Everywhere
Dasani water combines reverse osmosis filtration process with added minerals to create fresh, clean, and premium tasting water that is pure and delicious. With reverse osmosis filtration, Dasani removes impurities before enhancing the water with a unique blend of minerals for the pure, crisp, refreshing taste that's delightfully Dasani. It also offers you lemon and strawberry flavored water.
Essentia Water – Best Taste
Essentia Bottled Water, 1 Liter, 12-Pack, Ionized Alkaline Water:99.9% Pure, Infused With Electrolytes, 9.5 pH Or Higher With A Clean, Smooth Taste
ESSENTIA WATER 12 PACK: Twelve 1L (33.8 Fl Oz) Essentia Water bottles of ionized alkaline water that's 99.9% pure with a pH of 9.5 or higher and a clean, smooth taste — so you can stop for nothing
99.9% PURE: Essentia Water is purified with micro filtration and reverse osmosis technology, resulting in Overachieving H2O that is 99.9% pure
ENHANCED WITH ELECTROLYTES: Our proprietary blend of electrolytes is added not only for taste, but to complement the body's natural mix
IONIZED HYDRATION: Our proprietary ionization process produces clean, smooth-tasting 9.5 pH water by removing bitter-tasting acidic ions
TAKE HYDRATION TO THE NEXT LEVEL: Essentia Water is Supercharged Ionized Alkaline Water. So you can do what matters most to you and stop for nothing
In Essentia water, the water is purified by reverse osmosis and microfiltration, and alkaline electrolytes are then added to increase the taste of the drinking water and complement the body's natural mix. It is then ionized to increase its pH to 9.5 or higher, ideal for bottled water.
Perfect Hydration
Perfect hydration water is purified in a 15-step purification process, enhanced with electrolytes and essential minerals, ionized, microstructured, and made oxygen-rich. This product is both safe and healthy for consumption.
Penta Ultra-Purified Water
Penta Ultra-Purified Water, Oxygen Infused Natural pH Hydration, Solar-Powered 13 Step Purification Process,16.9 Fl Oz (Pack of 24)
ULTRA PURE - Penta Water contains less than 1 ppm TDS (total dissolved solids). Making it at least 100x more pure than leading brands. Penta is free from Arsenic, Chlorine, Lead, Fluoride, BPA, BPS, Pesticides, MTBE, Sodium, and Trace Pharmaceuticals.
PATENTED PROCESS - Each bottle of Penta water undergoes a patented 13 step, 11 hour purification process that removes more impurities than any other bottled water.
NATURAL PH - We don't use any chemicals to alter Penta's pH. It is naturally occurring, and can range from 7 - 8.
INFUSED WITH OXYGEN - Ultra-pure H2O and Oxygen are the perfect combo for a crisp, clean and refreshing taste.
MADE WITH SOLAR POWER - Our entire purification, bottling and packaging process is completed in one location using 100% solar power.
Sourced from natural acquires, Penta Ultra-Purified water is taken through an exclusive 13-step purification process to remove all impurities for ultra-purification. No special chemicals or additives are added to change the pH or taste of the water, making it extra safe.
Arrowhead Fluoridated Water
Arrowhead Bottled Water Flat Cap, 16.9-Ounce (Pack of 24)
Through the years, Arrowhead Brand Mountain Spring Water's popularity and distribution has grown beyond California.
Arrowhead Brand Mountain Spring Water is proud to have been part of the Nestlé Waters North America family of bottled spring water brands since 1987.
Today, you can find us in Arizona, Nevada, The Rockies, and even the Pacific Northwest. But no matter where you are, you'll be enjoying great-tasting spring water drawn from mountain sources in the United States and Canada.
Arrowhead Fluoridated bottle Water is made from spring waters from California, and Colorado treated with ozone and activated charcoal filters before being packaged into convenient PET plastic containers. It contains no artificial additives, preservatives, colorings, flavorings, or caffeine.
It is recommended for people who want to stay healthy and active. With its high magnesium content, Arrowhead Fluoridated Water helps your muscles relax after strenuous activity. Its low acidity makes it suitable for children and adults alike.
Core Hydration
Ultra-purified and enhanced with electrolytes and minerals, Core Hydration has a balanced pH uniquely designed for an active lifestyle. Core hydration water bottles also have special features such as the cup cap for sharing; the bottles are also made from previously recycled plastic bottles, making them safe for the environment. You can also find the water in tropical coconut, blueberry, peach mango, and watermelon lemon flavors.
Aquafina Water
Aquafina water is a bottled water brand made by Pepsico which goes through a purification process that incorporates reverse osmosis, ultraviolet, and ozone sterilization. Aquafina water also comes in six different flavors that contain zero calories and carbohydrates, with the flavors being Grape, Strawberry Kiwi, Wild Berry, Raspberry, Lemon, and Peach Mango.
Propel Water
Propel water is yet another product of Pepsico, which is quite famous for its different flavors and mineral availability. This water brand comes in nine flavors: lemon, kiwi strawberry, grape, berry, black cherry, watermelon, strawberry lemonade, peach, and mandarin orange. This product is also a great source of vitamin C and zinc. It is now also available as a powder that can be added to water and even a reusable water bottle.
Nestlé Pure Life
Nestle pure life, produced under the popular brands Nestle is one of the best water bottles available in the market. The water is directly pumped from springs via stainless steel pipes which then go through a unique filtration process that consists of reverse osmosis and other filtering methods. The bottled water is then rechecked for any harmful chemicals before being shipped to stores.
Is Reverse Osmosis water better than bottled water?
Through reverse osmosis, as I had mentioned before, normal water is given a thorough filtration, which is proved to be much better than other filtration methods. This makes it a better choice than other types of water available in the market.
Water like distilled, spring, mineral water can contain many unhealthy components which in reverse osmosis are often removed. Furthermore, reverse osmosis water tends to have a better taste and odor than other water types since molecules that leave stains are removed from it, whereas spring, distilled or mineral water will have different tastes and odors from one bottle to the other.
Reverse Osmosis works best on hard water because soft water requires additional treatment steps to make it drinkable. However, some brands claim that their products do not require filtration since they already have a multi-stage filtration system.
In general, Reverse Osmosis water proves to be better than regular bottled water and is much healthier for consumption.
Can RO bottled water be used in Fish Tanks?
To put it simply, RO water is too pure for aquatic use and needs to have beneficial minerals added to it if you wish to use it for aquatic tanks. But it can be considered better than tap water since RO water will not contain harmful components that tap water contains. And since the components in RO water are fewer, you are given the possibility to add more essential substances that fishes require into the water.
Summary
Bottled water is one of the most popular beverages today, and having water bottled with water purified by Reverse Osmosis is an advantage. This bottled water purified by Reverse Osmosis comes with benefits and drawbacks and has several apparent differences compared with normal bottled water.
There are many types of bottled water, including carbonated, flavored, still, sparkling, mineral, etc. Bottled water may come from natural sources or artificial sources. Some companies add chemicals to improve taste, while others remove impurities. Most bottled water is sold at stores near you. If you prefer to buy bottled water online, several websites are selling these bottled drinks.