Finding an affordable yet effective water filtration system is challenging for many people. Trying to understand all the subtle differences between models and the fear of installation can scare people away from transforming their drinking water.
For several reasons, the under-sink water filter is one of the most popular choices among homeowners. In addition to them being affordable, they are easily installed by almost anyone and have very little maintenance.
If you are looking for an alternative to spending big money on a whole-home filtration system, then an under-counter water filtration system may be right for you.
In this guide, you will learn everything possible about under-sink water filters. We will go through all those subtle differences and help you decide the best under-sink water filter for you. There are many options, but with our guide, we are confident you will find a great filter to improve your drinking water.
I've installed these units the most over the past year. Its a sold system with great tasting water. The SpringWell unit is super simple to install and the 3 stage filtration system is super easy to change out when needed.
Don't Have Time To Read? My Top 3 Under Sink Water Filter Picks

Home Master TMAFC-ERP Artesian Full Contact Undersink

Editor's Choice

It will remove 99% of 77 types of contaminants.
NSF certified on standard 42, standard 53, standard 401, and +P473.
The filter life is roughly 600 gallons, which is great for families of all sizes.

View Latest Price

ClearlyFiltered 3-Stage UnderSink Filter System

BEST VALUE

It has the ability to remove over 99.9% of waterborne contaminants
It comes to combatting fluoride and lead at an effective rate of over 99.5%.
The installation simply could not be easier. It takes a mere 10 minutes on average to install.

View Latest Price

iSpring CU-A4 4-Stage Premium Under Counter System

PREMIUM UNDERSINK

Ultra Filtration Filter-contains hollow fiber membrane technology with a pore size of just 0.01 microns.
It will get rid of 99% of contaminants.
The filters are simple to change. They twist on and twist off with ease.

View Latest Price
First, Why Should You Install an Under-Sink Filter?
This is one of the most common questions we receive; honestly, there are so many reasons why!
Affordability
Most people are on a budget. One way to avoid blowing that budget on eater purification is to investigate under-sink water filters rather than whole-home systems. Whole-home systems can be upwards of $500+, which does not include any costs associated with installation.
Under-sink systems are affordable, and since most homeowners can install these in just a few hours, you are saving hundreds more on installation costs.
Performance
Many people associate affordability with weaker product performance. When it comes to under-sink water filters, this is not something you need to worry about.
Thanks to the evolution of home water filtration throughout the past decade, a simple under-sink water filter system can provide all the benefits of a whole-home system.
You can remove thousands of different pesticides from your drinking water and sink water with a quality under-sink water filtration system.
Mobility
Since most under-sink water filters can fit into an average-sized moving box, it is easy to uninstall and bring your water system with you. If you are moving or want to bring your clean water system to your lake home or cabin, it is simple to do so with an under-sink water filtration system.
Uninstalling is usually more manageable than the initial installation, and you cannot put a price on clean drinking water. Hence, keeping the system with you wherever you go makes sense.
Types of Under-Sink Water Filters
There are different types of under-sink filters, each with unique characteristics.
Simple Under-Sink Water Filter
The best way to define a Simple Under Sink Filter is that it connects to your already existing water line, and the water will flow out of your already existing faucet. These are usually the cheapest options for under-sink filters, but they can effectively reduce harmful traits within your water. Another benefit of these filters is that they can easily be adapted to use with any water line in your home. This could include a refrigerator line or an ice maker.
One thing to remember with the Simple Under-Sink Filters is that you will be using it for everything because there is no dedicated faucet to clean water. This will cause your filters to need to be replaced more often because more water runs through them daily.
One of the more popular simple under-sink filters is Hydroviv, featured on Shark Tank.
Conventional Under-Sink Water Filter
Like the simple filter type, the Conventional Under Sink Water Filter will connect to the cold water line under your sink.
The difference is that the Conventional style will have a dedicated faucet and tap water. This gives you a reserved filtered water line to use at your disposal on your countertop. This is beneficial because you can still use your sink's regular faucet for dishes and other water uses.
It will also allow you to use the hot water at your kitchen sink because you will not be using the dedicated faucet with filtered water. You will also see a longer filter life because you are not using the filter for every water need in the kitchen.
Some people worry about the installation of a new faucet on their countertops. This is a legit concern and something we deal with weekly. Ensure you do not already have a hole drilled for the dedicated faucet.
It could be hiding underneath a cover, which looks like a flat disc. It is usually the same color as your faucet. It is easy if you do not have an already drilled hole, but if you are uncomfortable with it, a simple system may be best.
One of the more popular Conventional Under-Sink Filters is from ClearlyFiltered
Reverse Osmosis Water Filters
Reverse Osmosis (RO) systems use a multi-stage filtering process and a tank system to "flush" away contaminants in your water supply. The tank system usually contains a type of resin that lets clean water through and absorbs pesticides.
Almost all RO systems have a dedicated faucet (Conventional Filter). This will save money on filter replacements and get you the most out of your under-sink water system. The RO systems are widely regarded as the most effective under-sink water filtration option due to their ability to use reverse osmosis filters and, typically water filtering stages.
One of the drawbacks of a RO filter system is the need for the system to produce wastewater after the RO system. Any water that was not let through the RO process needs to drain, and this is considered a waste of water by many. Another thing to consider with a RO filter system is that the installation and costs can be more to bear than other under-sink water systems.
Many RO systems are becoming easier to install, but there are a few more moving parts than others. The cost of the RO system is usually more than other systems, but remember, you are getting the highest quality water filtration available.
One of the more popular RO under-sink systems is the Home Master TMAFC-ERP which I have reviewed below…
Best Under Sink Water Filter Reviews
1. Home Master TMAFC-ERP RO Contact Undersink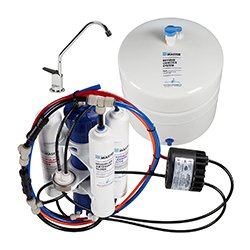 The number one lead-removing water filter on our list is at the top for a reason. The Home Master is a simple under-sink filtering system that provides a dedicated water faucet for clean drinking water. The only model on our list that uses reverse osmosis water purification has a 7-stage filter to make your water as clean as it can be.
Installation was a breeze, and with a long-lasting filter, the amount of maintenance required on this system is minimal. It is hard to go wrong with the Home Master water purification system if you want to remove lead from your water. We saw a huge drop in traceable lead particles upon testing the treated water!
What We Like:
What We Didn't Like:
Here is how to install the Home Master TMAFC under your counter:
2. Clearlyfiltered 3-Stage Under-the-Sink Filter System Review
The 3-stage water filtration system by Clearly Filtered is one of the easiest yet most effective water filters we have tested thus far. The combination of filters does an excellent job of ensuring that your water is among the best available at a fraction of the price compared to other water purification systems. There are 3 unique filters, each targeting a specific type of contaminant, and water testing has proven that this 3-filter combination tests off the charts.
It is one of the best DIY filtering systems for combatting fluoride and lead at an effective rate of over 99.5%. With a price tag of under $500, the test results for this system prove that you will get the most value out of this filtering system than almost any other on the market.
The average installation time of the ClearlyFiltered system is around 10 minutes, and when it comes to changing the filters, it can be done with no tools and takes mere minutes. The long, stainless-steel water lines are among the most accessible materials to use. Since stainless steel is naturally anti-bacterial, you do not have to worry about mold and mildew build-up.
What We Like:
What We Didn't Like:
3. Brondell Circle Under Sink Reverse Osmosis System
This is the most unique RO system we have ever had the pleasure of testing. Instead of your traditional RO system with filters and a large tank, everything you need for the Brondell is encapsulated within a sleek black box. The box is not the smallest thing in the world, but it can still easily fit under all sinks.
One of the biggest complaints about RO systems is their time to regenerate. During this time, clean water is not available from your filter. Some systems can take hours to refresh, but the Brondell takes only 25 minutes on average.
In addition to that, the amount of wastewater is significantly less than in other RO systems. It does a great job removing chemicals from water and even those pesky total dissolved solids!
What We Like:
What We Didn't Like:
4. iSpring CU-A4 4-Stage Premium Under Sink System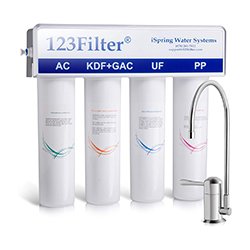 The iSpring CU-A4 under-sink filter features multi-level filtration with a dedicated chrome finish faucet that provides you and your family with clean and crisp water all day long. It has a compact design which allows it to be easily installed under the sink. It was designed to be installed by the homeowner, and thanks to iSpring's detailed technical documents and excellent virtual support, almost anybody can install this system.
Each filter has a specific role when it comes to water filtration to ensure that virtually nothing will sneak through the filtration process. To begin with, the first filtering stage has a 5-micron filter that is designed to specifically target larger in-soluble elements like heavy metals.
This stage is followed by an ultra-filtration stage that features a 0.1-micron filter that can capture both soluble and insoluble elements. The remaining stages feature an activated carbon filter that helps with odor and taste while ensuring that calcium and other valuable minerals stay in the water.
iSpring provides excellent warranty and guarantee options that allow you to be completely refunded within one year after purchase and covers all components.
What We Like:
What We Didn't Like:
5. AO Smith 2-Stage Under Sink Clean Water Faucet Filter
AO Smith has been famous for water products for many years. This filtration system is exactly why. They packed a lot of features into such a small package.
It is the smallest filtration system in this article, but you are not missing out on much, even with only two filters. Chlorine, lead, and fluoride levels were all lowered with this filter.
I cannot stress enough how simple the installation of the AO Smith under-sink system was. All the parts needed to install are included, and the only real tool you need is a little wrench that also comes with the system. Maintenance will be very limited with this system thanks to its 500-gallon filter life, the 2nd best in this entire article.
What We Like:
What We Didn't Like:
6. CuZn UC-200 Under Counter Water Filter
Let's start with the obvious when it comes to the CuZn under-sink filter. The 50,000-gallon filter life is insane. On average, that is five years with the same filter. If the filters were constructed of carbon like many others on the market, five years would be way too long, and you would see bacteria and mold build up. But the CuZn filters are made of a bacteriostatic material that resists bacteria growth around the filter.
The under-sink filter is larger than most and heavy, but the benefits you get from making it fit are awesome. Chlorine and other tap water contaminants were removed from the water, and other elements like lead and fluoride were removed as well. The flow rate on the CuZn system is also on the top end of all the under-sink filters we have reviewed this far.
What We Like:
What We Didn't Like:
How I Picked The Best Under-Sink Water Filter?
I considered several important factors when choosing the best under-counter water filter.
Flow Rate
There is a fear from homeowners that adding a filtration system of any kind will slow their water down. To an extent, this is true. After all, the water goes through multiple levels of carbon, stone, and other filtration mediums. But filtration manufacturers are constantly working toward maximizing flow rates.
The flow rate is calculated by Gallons Per Minute (GPM,) and will vary from 0.8 to 2 GPM depending on the under-sink filter. One factor in your flow rate is the PSI of the water supply. This is largely something you cannot control, but it will somewhat dictate the flow rate of your filtering faucet.
Determine How Much Space Is Needed For An Under-Sink Filter
When deciding on an under-sink water system, consider the space beneath your sink and the size of the filtration system you want.
Personally, I have a lot of space under my kitchen sink and can fit under virtually any sink. Reverse osmosis systems will have the added tank, which will require approx: a free space of 15″ wide by 10″ deep and 15″ tall, so if you are looking to save space, you may want to look in another direction.
Additionally, some more advanced systems have 5 or 6 filters that will need to be mounted to something, usually the inside of the cupboard. I would recommend free space of at least 5″ deep and 10″ tall, and 10″ wide. Make sure you have the space to accommodate your choice.
One of the best things about the standard and conventional under-sink water filters is that they do not have a maximum water capacity available. Because they are installed directly into your water line, you have access to the same amount of water as before. This is an excellent attribute to under-sink systems and one of the many reasons why people choose these over filtering pitchers or alternatives.
Remember, with a RO system, there is a tank that needs to be refreshed every so often.
Technically, you would not have unlimited access to water with a RO system. However, RO tanks can now accommodate over 50+ gallons of water every day. Trust me, 50 gallons of water is a ton, and I am sure they will last long enough for your daily use.
Micron Ratings
While you are researching, I am sure you will come across the term Micron. In water filtration, Micron ratings mean that the filter can filter out particles of a specific size. For example, if a filter has a rating of 0.5 Microns, this means that the filter will remove anything BIGGER than 0.5 Microns. The smaller the number, the better when it comes to water filters.
Water contaminants are so small that we cannot see them with our naked eye, and some microorganisms can sneak through without the proper filter.
How To Install An Under-Sink Filter
To many homeowners, the installation and the filter maintenance is their biggest worry about purchasing an under-sink water purification system. The truth is that the installation will entirely depend on the filtering system that you choose.
They each have different requirements and depending on the number of filters, some may take longer to install than others. Luckily, our favorite companies have been working tirelessly to provide us with products easily installed by the homeowner. The homeowner can install every under-sink filter in this article.
One thing to consider about water filter installation is the differences between RO systems and standard/conventional systems. RO systems have more parts to them and usually have multiple hoses to bring water into the tank and out of the tank. Usually, homeowners can still install them with no issues, but it is something to consider. Standard and conventional filters usually have just one water line to deal with and are usually installed in an hour or two.
Filter changes are another thing that turns homeowners away from water filtration systems. Luckily, the more this filtration technology evolves, the easier it gets to remove filters. Many of the filters have a quick-release button or can be popped right out with a little force. Each model is a little different. Research the filter releases and decide which one you prefer before buying an under-sink filter.
Filter Cartridge Longevity
There are a few factors to consider when it comes to filtering changes. Every filter has a rating based on how long it will work. This is usually calculated by total gallons of water and, in some cases, by months used. The more people and water you use daily, the more that will shorten the filter's lifetime.
Consider the total amount of water your house will use daily and make sure that the filtering model you choose can handle enough water for a long period of time. Replacement filters are not free, and if you replace a filter every other week, the dollars will start to pile up. And honestly, constantly having to change filters is annoying.
Another thing to consider with filter cartridge longevity is the filter change reminders. Some filtering systems will provide stickers so you can write down the date you replaced them so you know when to get a new one. Others have a service you can sign up for that will text or call you whenever it is time to get a new filter. This is not an exact science because they do not know your actual water usage, but it is a nice reminder to keep an eye on your filter.
Warranty & Support
Having a solid warranty on an item as important as your under-sink water filters is a huge weight off your shoulders. You do not have to worry about having the funds or time to go on another shopping trip to find yet another under-sink water filter.
All the filters we've reviewed thus far offer a warranty. If you want longevity from your filters, choosing a company with a longer warranty would suit you well. Make sure you read the fine print, though!
In today's day and age, finding quality technical support can be quite the process. If you attempt to install an under-counter water filter by yourself, having somebody there right away is worth its weight in gold. Many companies offer 24-7 phone support services to answer all your installation and maintenance questions. Another thing to look for is a company that provides detailed online videos of installation tips and tricks. In my experience, this is the best way to learn how to install, and many companies are offering these for free!
How Does an Under Sink Water Filter Work?
Under-sink systems are so popular because of the simple design and the lack of additional electronics or batteries needed to make it run. The reason it is referred to as an "Under-Sink Water Filter" is straightforward.
They are designed to be able to fit under a sink and in a cupboard completely hidden from the outside. There are filters, water tubes, and sometimes tanks from RO systems, and nobody wants these to be out on the countertop water filter.
An under-sink water filter essentially works like a buffer between your water line and faucet. Your water line coming from your main water supply attaches to the filtration system so that water flows directly through the filtration system and up into your faucet. Most of the time, the filter is connected to your cold water line, as this is what you will use for drinking water.
Under-Sink Filters vs. Countertop Filters
A popular question we get has to do with the difference between under-sink and countertop water filters. For your awareness, a countertop filter is a water filtration system on your counter that either has a fill tank or is connected to the waterline. If it is connected to your water line, it would have a filter and faucet built into one device that is mounted next to your current sink.
People like the countertop filters because they are typically very affordable and do an admirable job of filtering water. They are also very easy to install. While they can be an eyesore for you to look at with the filter and faucet being out in the open, companies are constantly trying to minimize the size to avoid these things.
Overall, the under-sink filtration systems are more preferred than a countertop water filter system. Countertop systems usually only have one or two filtration stages. This is okay for a few common household contaminants but not nearly as many as you will get from an under-sink system.
The other reason I like under-sink systems more is something we've discussed already. I do not like having a filter on top of my kitchen sink; they can be bulky and are not pleasant to look at. Overall, the better the filtering qualities and the sleeker designs make the under-sink option far more popular
FREQUENTLY ASKED QUESTIONS
How often should I change my under-sink filter?
This entirely depends on the filtering system you choose. Many are rated to handle a certain number of gallons before needing to be changed. This information is provided by each manufacturer and is something you should investigate before choosing an under-sink filter.
How long do under sink water filters last?
If you are keeping up with the filter changing routinely, the actual systems will last for many years. If you forget to swap out your filters, you run the risk of contaminant build-up that can hurt your water filtering system.
Can under sink water filters remove chemicals from water?
You bet they can! Each filtering system has several contaminants that will be removed from your water. Make sure you find the one that works best for your water supply!
Do under-sink filters wastewater?
Yes, and no. Standard and conventional filters do not waste any water because they are directly connected to the waterline. RO systems will require there to be excess water due to the process of cleaning the water via a reverse osmosis filter. Some RO filter systems will use produce less wastewater than others.
Conclusion
In conclusion, an under sink water filter system can benefit you and your family's water supply. They are a cheaper and more effective alternative to whole-home water filtration systems and usually require much less maintenance as well.
When deciding which under-sink filter is best for your home, consider all the information from our buying guide. These points are all essential things to consider. We sincerely thank you for viewing our guide, and we are confident the best under-counter water filter for you is hiding here!