If you are on a well or get water with a high amount of iron, whole-house water filters are designed to filter all the water entering your home. These are best to reduce iron and sediments from reaching our appliances and bodies.
Small filtering systems work for drinking and cooking. But if you're water has dissolved solids, sediment, rust particles, or smells bad, you need to filter the entire supply.
The good news is that entire home filtering systems are available at reasonable prices and in designs that will fit your unique requirements.
In this article, I'll review many of the best whole-house water filters for iron, models that will mesh with your existing system to provide the best, cleanest, safest water you can get.
Recommended Whole House Water Filters

Springwell CF1

EDITOR'S CHOICE

Includes three filters, one of which is specifically designed toremove lead from water
Features a sediment filter to remove sand, dirt, and silt from your water
The model has a minimal impact on your water flow rate

View Lowest Price

Aquasana Whole House Water Filter System

BEST VALUE

This model will combat chlorine along with most harmful contaminants and viruses
Utilizes Salt-free technology to ensure users save money in the long run
UV light purification technology that adds additional cleaning elements to your water tank.

View Latest Price
Whole House Water Filters for Iron Reviews
Ok, so with everything explained into what you should be looking for. Here are my top picks of current systems on the market today.
My Top Pick: SpringWell CF1 Whole House Water Filter System
Get 5% Additional Discount – Use Code WFC5
The Springwell CF1 utilizes similar technology to other non-electric whole-house filters with one main difference in design. The Springwell CF1 filters sediment at the final stage of filtration rather than initially.
Four Stage System
Stage One:
A multi-stage system will deliver the best home water filtration results in most applications.
Their unique flex bed design eliminates the common problem with many filters of channeling. Channeling is a process where incoming water carves a path through the filtering media, allowing less filtration and more untreated water to flow through the filter.
Springwell CF1 eliminates this issue with its flex bed design. It creates a movable media that forces more contact with filtering agents, resulting in a more thorough cleaning of the incoming water.
Stage Two
A copper/zinc allowed in a KDF bed removes chlorine from our water at this stage, along with bacteria and many other dissolved pollutants.
Stage Three
A coconut carbon bed provides an excellent line of defense in removing any remaining organic compounds. The activated charcoal filtering is the best available on the market short of a slow, expensive, reverse osmosis complete home system.
Once the water finishes this stage, only a sediment filter remains before it passes on to your use.
Stage Four
A five-micron sediment filtration system removes any remaining sand, silt, rust, debris, or even clay from your water. These are commonly found in well water, but this final step creates outstanding flavored water, devoid of any contaminants.
Flow Rate
The water will flow at the same pressure as provided by your municipal supplier, or at the level you've established for your home on the pressure tank.
Taste
The taste will be substantially better than well water, since organic compounds, dissolved solids, and heavy metals that can create a bitter taste have been removed. With municipal water, the difference is even greater.
Installation
This Springwell system must be placed in the water supply line after it enters your home, but before it branches out to the many sinks, showers, tubs, and appliances in your home. If you're good with tools, you can cut the incoming supply line, thread the pipes, and attach the filter with the included adapters.
If not, you should hire a professional to tap your water supply and install this device.
Maintenance
A filtering system is only as good as the filter quality in the system. You should replace the filter every six months to a year, depending on how heavily you use water.
Conclusion
I absolutely love this system. Water is one of the most precious commodities we have. Clean water, that is free of chemicals and that tastes fabulous is just a few minutes away. This is truly one of the best whole-house water filters for iron and well water and my go-to.
Exclusive Promo Code: Get 5% Additional Discount – Use Code WFC5
2. Aquasana – EQ-600 Rhino Whole House Filter
Expandability is the keyword when it comes to the Eq-600 Rhino by Aquasana. The Rhino is a complete water filtering system by itself. Still, the extra options of a water softener and UV filter make this system a step above anything else available for the whole home market.
The Rhino is an inline system that must be placed in front of all of your home water outlets. It requires a bit of expertise in installation, and extra care should be taken to ensure you have enough room to add on the additional components in the future if you decide to.
The Rhino is available in two styles for use with municipal water supplies and a single unit designed for private wells.
The municipal system is available for small homes with a capacity of 600,000 gallons prior to filter replacement. The larger home unit is rated to handle up to 1,000,000 gallons of water per filter.
The private well system is also a 600,000-gallon capacity system but arrives with a UV filtering system that kills any organism floating in your water.
Multi-stage System:
The Rhino starts the filtering process with a sediment pre-filter designed to capture rust, silt, sand, and any other large solids in your incoming water supply.
Second Stage
An activated carbon filter removes chlorine, pesticides, herbicides, and bacteria down to the one-micron level.
Third Stage
Mineral copper/zinc alloy stones remove any remaining chemical compounds from your water. This includes any remaining chlorine, plus dangerous pharmaceuticals that are now commonly found in city water supplies.
Add Ons
If you have hard water, this system may be perfect for you with its unique non-salt water softener component. The non-salt water softener connects directly to the existing Rhino system for ease of use.
While the private well system comes with a UV filter, neither of the municipal home filters includes it. A UV filter on your city water is a great idea if you live in an area where your water supply can be compromised by weather or other intrusive issues.
The Rhino is designed for easy placement with PEX pipe. It includes the adapters and compression rings you'll need for a PEX application. If your system is an older copper pipe or cast iron style supply, you'll either need to be proficient in this style of pipe or hire a professional.
Filters are large, but easy to replace with the Rhino.
Conclusion
Expandability is a nice thing to have in a home filtering system. The Rhino provides a great base unit, with the ability to move to the utmost level if you require it.
3. PRO+AQUA Whole House Filter System For Well Water
If you own a private well, the quality of your water is entirely dependent on you, there is no one else to call if the water tastes bad, has a bad smell, or contains bacteria that is making your family ill. Selecting the best whole house water filter for iron isn't hard to do.
Private Wells:
The Aqua is a filtering system designed exclusively for the private well owner. Even the installation style is built around the concept of "do-it-yourself."
This whole house system has adapters that will fit almost any existing water supply line entering your home. You can put the filter in place in front of the pressure tank, directly connected to the water supply entering your home from the well house, or you can place it on the outgoing line from the pressure tank.
Easy Installation
Easy-to-install compression fittings allow the installation of this system with just a couple of adjustable wrenches.
Sediment
The filter works well in removing rust, sand, dissolved solids, pesticides, and the rotten egg smell sometimes associated with wells in high sulfur areas or areas with a high concentration of natural gas.
The unit comprises stainless steel and a wrapped fiberglass exterior designed to handle extreme temperature ranges.
Power Requirements
This system requires a 120V electric outlet for attachment to the included power adapter that provides DC power to the filtering system.
Water is filtered for organics and some sediment, but a pre-filtering sediment filter is suggested for home wells that have a lot of sand, rust, clay, or other heavy dissolved solids floating in them.
This all-in-one system will remove odor, and fluoride, improve taste, enhance clarity, and, most importantly, improve the quality of your well water, making it safe to drink, cook, clean, or bathe with.
The Aqua is unique in that it is not designed for municipal water filtering, it is solely a home well system and as such, may be perfectly suited for the unique demands of a private well.
Private wells don't have the chlorine issues associated with public systems, but they can contain bacteria, protozoa, and chloramine and are more often infected with giardia and other microbes that can cause illness in people drinking the contaminated water.
The removal of foul-smelling agents is another plus with this system.
Conclusion
It won't slow the water flow you've set on your pressure tank, it will only improve the overall quality of your water.
4. iSpring 3-Stage Whole House Water Filtration System
Highlighted Features
This whole-home water filter is an excellent first line of defense in the fight against hard water. By installing the iSpring system directly into your main water supply, you will see a reduction in water contaminants coming to all your appliances.
The carbon block filters are designed to remove common tap water contaminants and the odors that come with them. Meanwhile, the sediment filter greatly removes chloramine, sand, dirt, and silt from your water. Both qualities will help keep your appliances and pipes clean while purifying your water simultaneously.
By combing multiple stages of purification and finishing with a specific lead-reducing filter, it is hard to find a better option for those of you looking for a whole-home system.
The activated carbon filter does a great job of removing the chlorine smell and taste from water. Installing the iSpring filtering system gives you peace of mind that all your water is clean and pure.
What We Like:
What We Didn't Like:
5. Express Water 3 Stage Whole House Water Filtration System
Highlighted Features
Easy installation and filter changes are invaluable when it comes to water filter systems, and the Express System checks both of those boxes with ease. The first filter in the unit comes with a clear housing so that you can look at the filter and check to see exactly when it needs changing, no guessing involved.
The filters are clearly marked, and each one is color-coded with an explanation of where they go and their purpose. The pressure gauges are a great asset to this system, too. They allow the homeowner to verify that their filters work at maximum capacity.
We saw an immediate improvement in water quality if installing this system. The smells and odors associated with chlorine and other municipal water supplies were removed immediately. The flow rate and water pressure are solid, which is very important for water filters. The 100,000-gallon filter capacity is fantastic and lasts for a year with normal use in many situations.
What We Like:
What We Didn't Like:
6. 3M Aqua-Pure Whole House Water Filter System
Highlighted Features
3M products are always reliable, affordable, and effective. The 3M Aqua-Pure whole-home system checks all those boxes and more. The simple design works well with any water supply, and installation is made easy thanks to the 1-inch connectors that are standard across most water lines.
The flow rates are steady and will not dip below ten gallons per minute, which is more than enough for most home users. You will even see flow rates as high as 20-GPM in some cases!
The Quick-Change filter housing is amazing. It makes filter changes a breeze, and I like the fact that it is completely sanitary.
You will never have to touch the filter media that your water runs through, which is nice because touching and handling the filter media can add unwanted toxins to the water supply. The filter capacity is also top-notch, lasting up to 100,000 gallons before needing to be changed. For most households, this can be a year of regular usage before needing to be changed.
What We Like:
What We Didn't Like:
7. Home Master Whole House 3-Stage Water Filtration System
Highlighted Features
Home Master systems are known for being reliable and durable, and this system is no different. This 3-stage whole house water filter does great with water contaminants commonly found within well water systems. The iron, manganese, VOCs, and lead levels were greatly reduced right after installation, according to our water testing.
Filtering out these sediment types and metal can be tricky for many filtering systems, but the Home Master 3-Stage system was designed with well-water homes in mind.
We were impressed with the flow rates that came with this whole house water filtering system. This system comes with oversized filters allowing water to move more freely and quickly from the filtration system.
You will not have your water pressure and flow rates bogged down by calcium buildup and other sediments. These giant filters disperse these impurities, so your filter stays more practical for a longer period. This will be one of your best options if you deal with other heavy metals in your water supply.
What We Like:
What We Didn't Like:
8. Aquasana Whole House Water Filter System
Highlighted Features
The Aquasana whole-home filtration system is one of the most well-designed and unique water filtration systems that we have run into. It was designed to handle your entire home's water supply, and it does so by using a combination of unique filtering and a dual-tank design. The dual-tank design allows the water flow to maintain steadiness by having water to go up and down through the water filters.
For you guys that like to install things on your own, this system may test your skills, but by no means is it a difficult install. The only thing that differs is the number of connections and tank attachments that you must do. Luckily for us, the Aquasana support is some of the best in the business, and the instructions are clear and concise.
The different-sized water line adapters are a nice touch, too. They allow you to install the system into either ¾" or 1" water piping.
The water testing results speak for themselves. It does a wonderful of removing that pesky chlorine that you are most likely dealing with along with lead, heavy metals, and other elements.
What We Like:
What We Didn't Like:
9. Culligan WH-HD200-C Whole House Water Filtration System
Highlighted Features
Culligan has been a pioneer in the water filtration world for decades. They have consistently provided top-notch products for all areas of your home. The Culligan whole-house filter will maintain your water pressure and help clear your appliances of limescale buildup. It meets NSF/ANSI standards 372 and 42, ensuring you receive a quality, tested product.
Installation was a breeze. Everything you need is in the package, and you will not need any prior plumbing experience to access clean, pure water.
The clear housing of the Culligan system is a benefit because it allows you to see the exact status of your filter all the time. Many comparable filters will use cheap plastic fittings for the water lines that tend to warp or break over time. That is not the case with the Culligan water filter; the inlet and outlet valves are reinforced by stainless steel, ensuring they will not bend or break.
What We Like:
What We Didn't Like:
10. Filtersmart Whole House Water Filter System
Highlighted Features
The Filtersmart system is one of the most modern and futuristic systems that we have reviewed thus far. It comes with a higher price tag than some other systems, but the added benefits are well worth it in the end.
You get all the benefits of a whole-house water softener but without the added maintenance of a salt-based system. The built-in bypass valve is easy to use and ensures that even during rare maintenance periods, water will still flow throughout your home.
This was one of the best systems we have reviewed so far at removing chlorine and other contaminants commonly found in municipal water supplies.
The filters are wrapped in coconut shell carbon that adds valuable minerals and helps combat added toxins that may sneak through the filtering process. These features, along with Filtersmart's massive filter longevity of 1,000,000 gallons, make it a great product for all water types.
What We Like:
What We Didn't Like:
What We Didn't Like:
How I Picked the Best Whole House Water Filtration Systems?
These are the most common questions I get when people are looking for a whole house system. So this is the approach I used when reviewing each unit below.
What Type of Water Filter do I Need and What Size?
The type of water filter you need will entirely depend on your water supply and the unique characteristics that are associated with it. The best thing you can do is get an at-home water test and see exactly what contaminants you are dealing with. This will allow you to research which filters will most effectively remove the unique toxins within your water supply.
Regarding the filter size, you want to check the size of the water inlet and outlet areas. The bigger these are, the better water pressure and flow rate that you will see.
The standard and the best size are 1-inch. I would never buy a system without this size.
What Does it Filter Out?
The specific toxins that are filtered out will depend on your chosen filter. But most of the time, whole home water filters will do a tremendous job at removing common tap water contaminants like chloramine, rust, and heavy metals as well. If you are dealing with a municipal water supply, you are most likely dealing with metals and chloramine in your water.
These characteristics are also common in large cities that rely on water treatment to provide its citizens with water. You will want to ensure that if you are in one of these situations, your chosen filter can handle these effectively.
The other type of water supply that is commonly found is a well water supply. If you have a well water supply, your needs will differ from most city supplies. Your water will have more sediment, lead, and other solids. Ensure that you are choosing a filter that can handle well water; many systems are not designed to handle these properties.
Filtering Process and Stages
One thing you are bound to notice is the wide array of filtering stages that are available to you. Just because there are more filtering stages, does not necessarily mean that they are any better than ones with less filtering stages.
The most important thing to investigate is the total number of contaminants that all the filter stages can remove combined.
You will see some systems on the market that advertise seven or more filtration stages. You will often see them repeating the same filter type repeatedly to ensure that they are achieving the best filtration results possible.
While this does sound like a good thing, these systems can be expensive, and the water test results may not show that you are achieving a better filtering performance.
Meets NSF Standards?
When investigating a whole home water filtration system, you want to look out whether the system is certified by NSF. This third-party testing company will review and test out different water filters to ensure that the product does what it is advertised to do.
There are several standards that the NSF is looking for, and some are there to confirm that a specific type of contaminant is being removed from the water. For example, NSF standard 42 applies to the water's taste and odor.
If a filtering media is confirmed to be acceptable by the NSF under standard 42, that means that during their testing, they have confirmed that odors and tastes within water were removed. The NSF has very strict standards, and you can almost guarantee that a device with multiple NSF standards will do a great job with your home's water supply.
pH Range
You need to be on the lookout for the pH capability of your water filter. By testing your water, you can find out the exact pH of your water, and if it is below 7, you may need to search a little harder to find your water filter. Water with a pH of under seven is considered acidic, and some filters cannot handle acidic water effectively.
Water Flow and Water Pressure
Years ago, this was almost guaranteed, but thanks to new technology, we can get solid and steady water pressure across all waterspouts. There is some variance between models on the maximum pressure the filters can handle. Ensure that you investigate this to ensure you will not blow your filters out.
Filter Longevity
One of the most important factors to consider is the filter capacity. Many on our list start at 500,000 gallons and go up from there to 1,000,000 gallons before they need to be changed.
Depending on the amount of water you and your family use daily, you will want to ensure that the filter capacity will not make you constantly must replace the filter. This will cost more money and can be an annoyance, especially considering long-term filters are more expensive than many other types.
Technology (UV)
One of the newest fads within the water filtering community is the use of UV lights in the filtering process.
The UV light will help you remove unwanted bacteria, pesticides, and microbes that are able to sneak through the standard filtering process. If you can swing the costs, the UV is a nice feature, but it is not required to achieve great-tasting, clean water.
Consumption
One thing to be aware of is the amount of water your household will use daily. Some filters are limited to the amount of clean water they can produce in a day, and if you have a large family, one of these filters would not be the best choice for you.
The other thing to consider regarding water consumption is the filter's longevity and how the more water you run through it in a day, the less time it will last.
Microns
When judging a filter's effectiveness, looking at the Micron rating is a great place to start. A Micron rating is a measurement for how small of a toxin the filter can remove effectively. The lower the number, the better the filter will be at eliminating invisible solids and other undetected bacteria and protozoa.
Most filters will be able to remove contaminants down to 0.3 Microns, but some filters can get down to 0.1 Microns. If you are dealing with well water, the better the Micron rating, the better the chance of removing all toxins from your water.
Installation and Maintenance
This is one of the things I weigh the most in my decisions regarding household appliances and improvement systems. I want to be able to install and maintain everything on my own, and thankfully, most standard whole home water systems now have that ability.
They are designed to be easily installed, and since standard whole home filters use just a few filters, the only maintenance required is to change these out whenever needed.
If you want to save money and learn something, find a filter that can be easily installed.
They are all different and come with various tools and parts. Some include everything you need to install it right away, including wrenches and tools, while others will not have a single thing. Be on the lookout for this, as opening the box and seeing that you need to order six items is never a fun experience.
How Does a Whole Home Water Filter Work?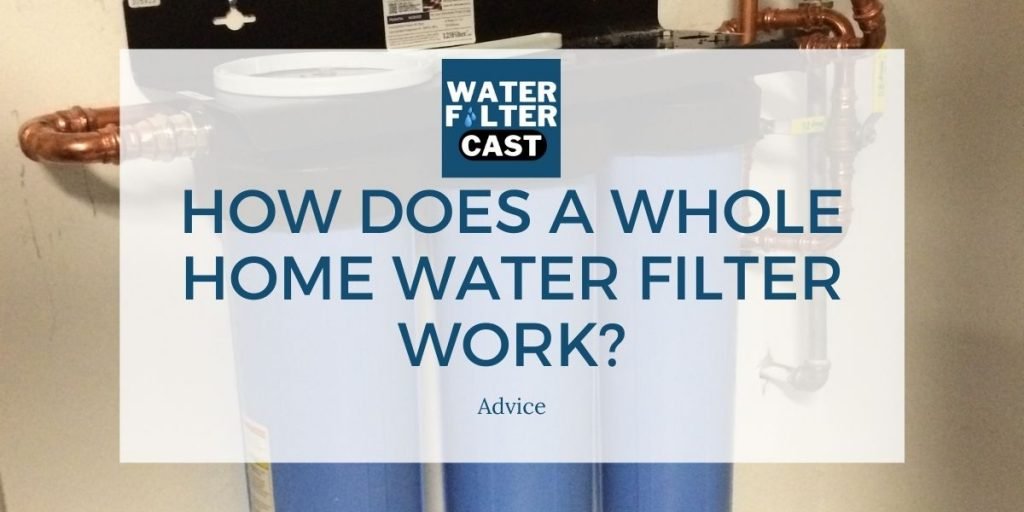 A whole-home water filter will attach to your main water supply inlet and improve water quality to every faucet in your home. Where the water supply from your well or other source enters your home, it typically goes through one main water pipe before being distributed across all your faucets.
A whole-home water filter is a buffer between the main water inlet and the rest of your faucets. It will send the water through several different filtering stages and come out the other side clean and pure.
A whole-house water filter will use a combination of food-grade materials and filter media to ensure that the water in your home is the cleanest possible. You may see reduced water flow rates or a drop in water pressure because the water is being forced through fine water filters, which can slow it down.
Luckily, as filtering technology improves, the water pressure drops are not even noticeable in most cases, making a whole-house water filter a great option.
Do I really need a Whole House Water Filter?
The answer to this question depends entirely on your water supply and personal preferences. While a whole-home filter is an excellent choice for all homes, it can be a more considerable investment and require more maintenance in the long term, but the long-term benefits significantly outweigh those cons.
If you have sensitive skin, you may want to investigate a whole home water filtering system. Showering in untreated water can affect your skin, hair, and nails.
One of the biggest complaints we get is itchy skin from untreated water. This can be alleviated with most whole-house water filters and added benefits that will improve the quality of your hair. Untreated water can cause your hair to become brittle and dry. Installing a whole-home system will help with this right away.
Arguably, your drinking water is the most essential aspect you can improve with a whole home water filtering system. If you drink water high in chlorine taste and other common contaminants like herbicides, lead, chloramine, and sulfur, you may see long-term health effects by consuming these harmful chemicals. Installing a whole-home water system will also greatly improve the water taste.
What Filtration Media Do I Need?
Carbon block filter
KDF filter
Sediment filter
Air injection oxidizing (AIO) filter
Ultraviolet Disinfection (UV)
Carbon Block Filters
This media will work if you require ultra-fine filtering, less than one micron in size. It uses activated charcoal to remove organic compounds, chloramine, bacteria, and protozoa through absorption and de-ionization.
KDF Filters
Kinetic degradation fluxion (KDF) is a filtering process that converts pollutants into harmless material that can then be flushed out of your water. It effectively removes chloramine, fluoride, heavy metals, VOCs, dissolved solids, herbicides, and bacteria.
Sediment Filters
A sediment filter passes water through a paper or cellulose membrane that traps particles, especially sand, rust, and other large contaminants inside the filtering agent. It is effective in shallow wells, or older wells that may have rust particles dropping off the well casing.
Air Injection Oxidization Filters (AI0)
These filters are found on a large scale in municipal water purification plants. They inject air into contaminated water which stirs it up, exposing it to sunlight that kills bacteria. It can also provide extra agitation in use with a UV or sediment filter that enhances filtering.
Ultraviolet Disinfection (UV)
Home UV systems utilize a bright light bulb inside a tube that kills bacteria and other microorganisms in contaminated water. The system should use a sediment filter before the UV filter since particles could block the light that kills microorganisms.
Whole House Water Filter VS Water Softener
This is a very common question that we receive from homeowners. In reality, the differences are minimal between the two. You may see a few more benefits of a full-scale water softener, but water quality is very similar. Water softeners do a great job of removing water contaminants and improving water quality across the board. But compared to a whole house water filter, there are some downfalls.
A whole-home water filter is usually more affordable than a water-softening system. Regardless of your budget, there is a whole-home water filter that you can find to improve your water situation.
Another major benefit of whole-house water filters over water softeners is the difference in the maintenance you will need. Most water softeners on the market these days still require salt pellets to act as the filtering medium.
These water softeners need to be refilled with salt pallets constantly, and if you fail to refill the softener, you can damage the machine. You will start seeing the destructive qualities of untreated water. Compared to whole home water filters and their lack of maintenance, it is an easy decision when it comes down to it.
Another aspect that whole house water filters outshine softening systems is the installation and costs associated with the said installation. Most water filtering companies have their engineering departments focus on installation and maintenance that the homeowner can handle entirely on their own. Plumbers can be known to charge a ton of installation, and a huge reason why many people are turning to whole-home water filters is that there are no hidden costs, like installation.
Whole House Water Filters VS Reverse Osmosis Systems
There has been a lifelong debate among plumbing professionals about the benefits of a standard filtration system versus those of reverse osmosis (RO) water filter. It is no question that both have benefits that homeowners will see within their water supply, but there are also a few subtle differences between the two that I would like to point out.
Undoubtedly, the most frowned upon aspect of RO systems is their need to discharge wastewater. It does not matter which RO system you are investigating; every single true RO system will have discharged water that is wasted. RO systems use a water tank separating purified water from water molecules containing solids or toxins. That water that is separa