How I Chose | My Recommendations | Comparison Table | How To Choose
I have included links for items that I found to be useful to you. If you buy through these links, I may earn a small commission. Product Selection Process
Quick Breakdown of the Best Bathtub Water Filters
Water filters have become a standard item in many houses, often used to filter drinking water. But have you ever considered, if this contaminated water is bad for drinking, is it okay to use it for bathing?
Like how those water contaminants harm our interior body parts, it can do the same with our exterior parts, such as our skin, hair, and nails.
This is why filtering bathwater is essential. Thus I have put together this guide on selecting the best bathtub faucet water filter for your needs.
How I Chose These To Be The Best Bathtub Water Filter Recommendations
This was my criteria to determine which of the 100's of bathtub filters in the market today to be labeled as 'best':
Value: Prices range from $10-$60. Which ones offer the best bang for the buck.
Filtering Capability: each one filters different containments.
Materials: each one uses different materials for quality.
Company Reputation: Good business practices?
Customer Satisfaction: Do other people find this product useful?
Pricing Guide:
I broke down the pricing by range ($ to $$$), where $ is most affordable, and $$$ is most expensive.
For Bathtub Filters, the price range I found was $20-$80.
My Top 3 Bathtub Water Filter Reviews
Let us now look into the three best bathwater filters you can purchase from the market.
Best Overall Bathtub Filter:
CuZn Bath Ball Faucet Water Purifier
Sale
CuZn Bath Ball Faucet Filter - Bathtub Water Purifier - Made in USA
Helps Alleviate Water Quality Issues That May Contribute to Irritation While Bathing for Up to 12 Months Once Activated
Enjoy Conditioned Bath Water for Smoother Skin and Softer Hair; Great for Sensitive Skin
Easy To Replace Filter; Improved Strap Design; New Flow Rate Extender Funnel (To Reduce Overflow) Questions!? Send CuZn's Customer Support Team an Amazon Buyer-Seller Message for Prompt Assistance
The Bath Ball's Purification Process, Utilizing KDF-55 Filtration Media (Search "KDF Fluid Treatment" To Learn More), Conditions the Water Without Removing Beneficial Naturally Occurring Minerals; All Types of Bath & Shower Filters, Including the CuZn Bath Ball Water Filter, Will NOT Reduce TDS or PPM Type Meter Type Meter Readings; TDS or PPM Type Meters Are Only Intended To Monitor the Performance of Our CuZn 5 Stage Reverse Osmosis System
CuZn Bath Ball faucet water purifier is given the tile the best multifunctional filter because it is not only designed for bathtubs. This filter can also be used in kitchens and removes chlorine, fluorides, pesticides, bacteria, and many viruses from the water and increases its pH.
Since this filter is not designed only for bathtubs, the filtered water can also be drunk.
The CuZn Bath Ball faucet filter has a multi-stage filtration system that includes an alkaline energy gall, medical stone, activated carbon, ceramic shell, PP cotton, and a descaling sphere that thoroughly filters out your water, leaving you with nothing but safe and clean water. The alkaline energy ball also softens the water and adds minerals like zinc, magnesium, and calcium to the water.
The downside of this filter is that it needs to be replaced once every 3-6 months, but they have a replacement subscription option that will send you the filters on a regular schedule. Compared with others, the capacity of this filter is also a bit lower, and the filter is only 6 liters per minute.
However, this multifunctional faucet filter can be a great product because it is cheaper than most other multifunctional filters.
Easy To Install
Best Value
Needs to be replaced more often than others.
---
---
Best Priced Bathtub filter:
Sprite Showers BB-WH Bath Filter Review
The Sprite Showers BB-WH is one of the cheapest filters on the market.
It removes chlorine from water and softens it. However, this filter doesn't remove heavy metals like lead, chromium, iron, and copper and is specialized in chlorine filtration.
This bath ball filter targets areas with low water pressure and provides you with high-pressure water. It has a flow rate of 2.5 gallons per minute.
This filter also smoothens your skin and reduces its oiliness, increasing cell viability.
---
Best Filtering of Contaminants:
Crystal Quest Bath Ball Filter Review
Crystal Quest White Bath Ball Filter | Removes Hundreds of Contaminants for Softer, Smoother Skin | BPA Free | 2,500 Gallons of Filtration
Enjoy Pure & Clean Bath Water: Crystal Quest's innovative bath water filter effectively removes a wide range of pollutants, providing a rejuvenating and enjoyable bathing experience. It eliminates contaminants, ensuring clean & pH balanced water for a refreshing and soothing bath.
Affordable & Efficient: This tap water filter is a cost-effective solution with 2,500 gallons of filtration lifespan before requiring replacement. It offers long-lasting protection against harmful impurities, making it an excellent investment for any home.
Easy To Install: This innovative bath water filter is effortless to install and requires no additional tools or equipment. It can fit seamlessly onto all standard bathtub faucets, making it a convenient addition to any bathroom. Includes two types of handles (standard & flexible) to accommodate any faucet design.
Highly Versatile: Our bath tub filter offers a seamless and versatile solution to remove impurities from the bathwater. It fits all tubs and cleans water at any temperature for a year-round rejuvenating and pure bath experience.
BPA-Free Bathing Bliss: This bath tub water filter is BPA-free, providing peace of mind by ensuring your bath water is free from harmful chemicals. It allows you to unwind and relax without being concerned about potentially harmful contaminants.
The Crystal Quest is one of the most used bath filters worldwide and is known for its impressive capabilities. It offers 75% filtration and 25% rejuvenation when water runs through it.
This filter has 15 stages that can remove many contaminants like chlorine, pesticides, dirt, odor, and pharmaceuticals, providing you with the best experience it could deliver.
It also controls the scales building up in the bathtub and makes your skin, hair, and nails grow healthy and strong.
The Crystal Quest filter is also easy to install and replace when needed and is compatible with most showers available.
Name
Ideal For
Dimensions
Flow Rate
Weight
CuZn Bath Ball Filter
Smoother Skin
Softer Hair
4"L x 4"W x 3.5"H


5-6 Gallons Minute
.55 lbs
Crystal Quest Bath Ball
Removing the most contaminants
5" x 5"
4-5 Gallons Minute
2 lbs
Sprite Showers BB-BN
Lower priced
4.5"x4"x4"
7-8 Gallons Minute
1.3 lbs
What Is a Bathtub Faucet Filter?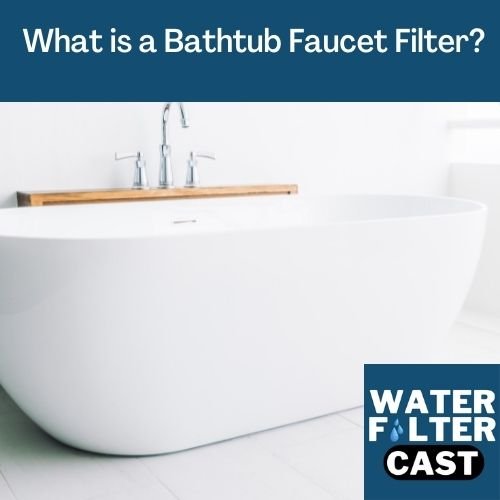 So if filtering bathwater is essential, then should we carry water from our water filter to the washroom? It will be troublesome unless you have a full-house water filter which is usually expensive.
The easiest way is to install a bathtub filter specially designed to remove contaminants that can harm our skin, hair, and nails.
Plus, using a water filter will also make cleaning your bathtub easier since it removes contaminants that can leave hard water stains.
Types of Bathtub Water Filters
There are a few types available regarding water filters for the bathroom.
Bathtub faucet filter: This filter is attached to the faucet of your bathtub. This filter will collect the water which flows through the faucet and filter it, removing all contaminants before supplying the water. These filters filter out a lot of water, so remember that regular cleaning is very important for its lifetime.
Shower Head Faucet filter: This filter is attached in between the water supply and the primary faucet. It acts as a net and catches all the impurities allowing only water that is contaminant free to flow out from the faucet. It usually has multiple showers to adjust water speed and requires regular cleaning, like the bathtub faucet filter.
Are Water Filters Important for Bathtubs?
Having a filter on the bathtub faucet would be very beneficial as it brings us many advantages, most involving our health.
These include:
Chlorine, which is by far the most harmful component in water, is removed.
Bacteria and viruses are filtered out, which can cause diseases.
Softens hard water, which can leave stains in your bathtub, even if they aren't harmful to our bodies.
Exposure to minerals is the main reason for dry skin; this often occurs during baths. Filtering the water can remove these minerals, helping in maintaining healthy skin.
Tap water contains chlorine and lead, which can cause lung and sinus irritation in long-term use. By filtering the water, this can be overcome.
How to Choose the Right Bathtub Water Filter
Filtration
Do you wish to remove every contaminant, or do you have a specific contaminant that you wish to remove? If so, what contaminants do you wish to remove? These questions should be answered before you settle on the product you wish to buy.
Functions
Before buying a bathtub water filter, you should first find out what functions you expect to have in the filter. This could be if the filter is a multi-use filter or just a shower filter. Making sure the filter you purchase meets at least 90% of your standards is more important than its price.
Positive Effects
What does one filter have that the other doesn't? You should always compare to find out what benefit each product has over the other and how it will benefit you before deciding on what to buy.
Conditions treated
What is the reason that made you want to buy a water filter? Is it regarding your skin, hair, nails, or other reasons? Make sure to buy a product that matches your criteria before you buy it.
Summary
With the increasing amount of contaminants in tap water daily, adding a filter to our bathtub is very important because clean water isn't just needed to prevent disease and maintain a healthy body.
Unlike regular filters, bathtub filters have many sides and can come in special features and advantages. This makes it possible for us to choose specialized filters in different areas that we may require. Making sure to buy a filter that matches your criteria is very important.
Bathtub showers even come in different types and different sizes according to what requirements you have. So always make sure to thoroughly look at every detail the bathtub filter has before buying it.
FAQs
Are the bathtub water filters easy to install?
Bathtub water filters are usually easy to install on your own. But there could be some cases where professional help will be needed.
Do bathtub water filters remove most contaminants?
Water tub filters usually remove most of the contaminants in water unless the filter is specially designed to remove only one or a few chemicals. They usually come with a filtration system that removes all the commonly found contaminants in water.