One of the biggest challenges that both homeowners and water filtration companies face is removing total dissolved solids (TDS) from water supplies. Total dissolved solids refer to the number of dissolved substances that are present in a water supply.
The most common solids you will find in your water supply are calcium, sodium, potassium, and chloride. These are commonly found in water near mountainous areas and other water supplies near rivers.
Because many water filters fail to remove all TDS molecules, they will still be present in your water supply after going through most water filters.
By using a TDS Meter, you can test the purified water and ensure that your water does not have an abundance of TDS molecules. TDS Meters come in all shapes and sizes, and some come with many more features you can utilize down the road. You will see hundreds of different TDS meters to choose from when you begin your search. This can seem like a daunting endeavor, but we are to help guide you through selecting the best TDS meter for you.
What Is A TDS Meter?
A TDS Meter is a small, handheld device that is used to measure the amount of total dissolved solids (TDS) that are in a specific water supply.
TDS are made up of dissolved ionized solids that can be hiding in your water supply, even after directing the water through a water filtration system. TDS meters will usually calculate electrical conductivity as well, and by combining the total dissolved solids amount with the electrical conductivity, the meter will produce an accurate estimate of your TDS levels.
Many TDS meters will include a function that measures the temperature and pH levels of the water in addition to the TDS readings. This is nice as you can compile all the data you need to figure out the best filter to attack your specific water characteristics.
How Does a TDS Meter Work?
TDS meters use a combination of data points to produce an accurate display of total dissolved solids within a water supply. To understand how a TDS meter works, you need to understand the role that electrical conductivity plays in the TDS calculations.
Every TDS meter will start by measuring the electrical conductivity. When a water supply has a higher amount of electrical conductivity, this infers that there are more dissolved chemicals, elements, and minerals present in your water supply.
These things can include salt and hardness particles that will increase the amount of electrical conductivity and will, therefore, increase the estimated number of total dissolved solids. The higher the electrical conductivity reading within your water, the more dissolved minerals and contaminants are present in your water.
Many TDS meters will combine the initial measurement of electrical conductivity with a pH calculation to come up with the most accurate reading of TDS possible.
If a pH level is calculated to be less than 7, then water will be declared as acidic, and we can infer that the amount of TDS present in the water supply is more than if the water's pH level was above 7.
TDS is calculated in ppm or "Parts Per Million," and the higher the ppm level, the higher the TDS in your water supply.
How to Test Water With a TDS Meter
The beauty of the TDS meter is its simple design can allow you to quickly and accurately measure your TDS level within your water supply. The TDS meter will come in a wand-like shape that has a probe at the bottom of the device.
These probes are typically made from glass or glass wrapped micro-films that can easily absorb water particles and keep your water clean and pure while performing the TDS measurement. Usually, you will just insert the probe into the water supply, and it will produce your readings, but there are a few steps you need to take to ensure the most accurate reading possible.
Before you can test your water with the TDS meter, you need to make sure that the TDS meter is calibrated correctly. The device will sometimes come pre-calibrated from the manufacturer, and this is the most preferred way of calibration as it means the device is ready to go right from the box.
Other systems will require the device to be calibrated with the use of powders at specific temperatures to ensure that the probe can read all levels of TDS regardless of the water's temperature or pH level.
Once you have confirmed that your device is calibrated correctly, you must ensure that it is set to capture TDS. Since many devices come with multiple different options to measure, you will want to ensure that your device is ready to calculate TDS levels. Doing this will be different for each device, but there are options available that will calculate temperature, pH level, and TDS all at the same time and display each one individually.
Once these things are confirmed, you are now ready to calculate your water's ppm or TDS level! Simply insert the probe into the water you wish to test, and just a few moments later, you will have a reading of your TDS level.
Best TDS Meter Reviews
1. SOEKS EcoVisor F4 Geiger Counter Radiation Detector
If you are looking for a TDS Meter that can provide you with tons of other benefits, then the SOEKS EcoVisor is a great option. When it comes to testing the traits of your water within the home, it can provide two major benefits.
The first is the immediate reading of total dissolved solids. These can be harmful when ingested in large quantities, and if you know exactly what solids you are dealing with, you can formulate a plan to combat your water contaminants.
The SOEKS meter will also calculate your water's pH level. By knowing your water's pH level, you can determine if your water is acidic, and this will allow you to find an alkaline filter that will improve your water's pH.
The touchscreen on the SEOKS TDS Meter is one of the most responsive we have tested to this point. One of the things we loved was the quick reading probe that is included with the system.
Some TDS meters will take a while to produce your TDS reading, but with the SOEKS system, you will have an accurate TDS reading within 3 seconds. The probe is made from a dense material and is not delicate, like many other comparable models.
Why We Love It
The screen is bright, and it is easy to choose the type of detection you want.
It takes only 3 seconds for the TDS meter to display the water testing results.
The probe appears to be strong and durable; it will not break or bend while performing any type of testing.
This system also measures the pH level of your water. This adds valuable information in addition to the TDS meters.
Keep In Mind
There is a 15% accuracy margin, which is more than I like when testing TDS.
2. HM Digital COM-100 HMDCOM100 Waterproof TDS Meter
The simplicity of the HM meter is one of our favorite things about this system. You can quickly change from a thermometer to a TDS reader with one click of the button. TDS is measured in ppm (Parts Per Million), and the range that the HM digital reader has is top-notch.
It will calculate TDS that measure greater than 999 ppm with a simple click of the button. The quick-measuring speed that the HM provides you with is also a great feature. You will waste no time getting an accurate TDS reading or temperature.
The bonus of being able to quickly determine the temperature and the electrical conductivity of the water along with your TDS reading is a great feature. Both the temperature and the electrical conductivity are important in assessing the overall health and chemistry of a water supply.
By combining the information you learn from all 3 of these measurements, you will be able to come up with a plan to attack these contaminants and find the best filtering option for you.
Why We Love It
The water testing capability of the HM system is quick and provides multiple important information points.
We like that the LED display is large and easy to read; many other comparable systems are tough to read.
The probe is lined with hard plastic that will keep it from being damaged.
Keep In Mind
The system was supposed to be calibrated at the factory, but I had to redo this a few times.
3. Wiztech Digital PH Meter With ATC: 3 In 1 PH TDS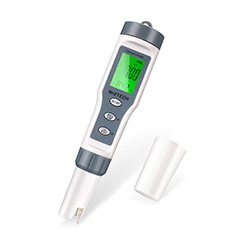 The first thing you notice about the Wiztech TDS Meter is the ultra-clear back-lit LED screen. Many TDS meters feature a simple LED screen, but with the green back-lit screen that the Wiztech features, it is by far the easiest screen to read.
We were very impressed by the speed of the TDS meter as well. Almost instantly, we had an accurate count of our total dissolved solids. The unique thing about this TDS meter is that the probe is made from glass that is covered with a sensitive film. This makes readings come faster and more accurately.
If you are looking for something light, mobile, and easy to carry with you no matter the situation, then the Wiztech may be a good choice for you. It is only 7.5-inches long and less than 2-inches wide.
It easily fits into your pocket and the tapering handle shape makes it one of the most pleasant to hold and use. The easy to read buttons allow you to simply change between reading modes and you can choose between Fahrenheit and Celsius simply as well.
Why We Love It
The simple yet effective back-lit LED screen is one of the easiest to read that we have reviewed thus far.
There is a sleeve that comes with the system that is placed over the probe to protect it.
The speed of the TDS meters measurement is one of the fastest we have seen so far.
The handle is one of the most comfortable that we have reviewed.
Keep In Mind
Calibration can be confusing for many people who are not familiar with these systems.
4. Extech EC400 ExStik Waterproof Conductivity TDS Meter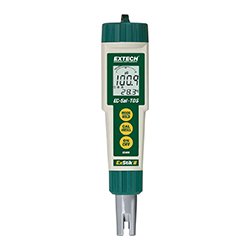 The Extech TDS meter comes in a small, sleek design but is loaded with tons of cool features that you can take full advantage of.
The meter can produce TDS readings along with temperature and salinity in mere seconds. One convenient feature that comes in handy more often than you would think is the system's ability to remember the 25 most recent readings it has taken. Gone are the days when you need to scramble to find a pen and write down the reading, the meter will allow you to check on all your recent meetings.
Another neat feature of the Extech meter is its ability to display all the different readings simultaneously. You do not have to choose which reading mode you want to display; it will display all of them with your initial water test.
It works in water as hot as 149-degrees Fahrenheit, which is a higher maximum temperature than most comparable models. The rubber probe cover is ultra-durable you will NOT have to worry about damaging it while the cover is on.
Why We Love It
Weighing a mere 4.2-ounces, you can bring it virtually anywhere.
The system calibrates automatically when it is powered on.
There is a storage function where you can store the 25 most recent TDS readings for immediate recall.
It comes with a neck-strap that you can attach to the TDS meter for easy access while working or performing multiple tasks.
Keep In Mind
The system needs calibration fluid which is not included with the initial purchase.
5. VIVOSUN PH And TDS Meter Combo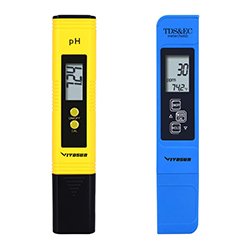 From a consumer's standpoint, simple is almost always best. The VIVOSUN TDS meter is one of the simplest meters we have tested so far but it is effective at calculating TDS and pH levels within your water supply.
You can also accurately capture the temperature of the water quickly and accurately. We liked that the LED screen has an optional green back-lit option. If it is bright outside, it can be tough to read a backlit display, but with the VIVOSUN system, you can choose whether you want to use it.
Having a reliable TDS meter is exceptionally important to understand the chemistry of your water supply and will ensure that you are not ingesting large quantities of TDS. One thing I loved about the VIVOSUN is that it comes pre-calibrated to capture TDS readings. Many times, calibration can be difficult with TDS meters, and thankfully, this one is ready to measure TDS right away.
Why We Love It
The maximum operating temperature is the highest of any TDS meter we have reviewed thus far.
It features an auto-shutoff feature that will shut the device off if it is inactive for 9 minutes.
The LED screen is crystal clear and easy to read.
You have the option to turn on a green light on the LED screen if you wish.
Keep In Mind
If you want to calibrate the TDS reader for something other than TDS, it requires an elaborate powder calibration that is difficult.'
FREQUENTLY ASKED QUESTIONS (FAQ)
Does a TDS meter measure chlorine?
Unfortunately, a TDS meter does not read specific chlorine levels within a water supply. Because TDS meters calculate the electrical conductivity of the water supply and not specific contaminant levels like a water test, there is no way to accurately portray chlorine levels with a TDS meter. A combination of a TDS meter and a water test will be your best option for learning everything you need to about your water supply.
How to read a TDS meter?
A TDS meter will produce a number calculated by in parts per million, or ppm. Depending on your TDS meter, make sure that it is set to read TDS, and after you insert the probe into the water, you will be shown a TDS level calculated in ppm. The higher the ppm number, the more total dissolved solids are present within your water supply.
Can a TDS meter measure water hardness?
There is a fine line between water hardness and TDS. A TDS meter does not necessarily calculate water hardness specifically because there is no unit of measure for water hardness. When we refer to TDS, we are referring to what CAUSES the water to become hard. So in a sense, a TDS meter will calculate water hardness indirectly by finding the exact amounts of contaminants of dissolved solids that result in the water becoming hard.
Can we drink low TDS water?
Absolutely! When it comes to judging the health qualities of your water supply, the lower the TDS amounts, the better. There is no scientific evidence that ingesting low TDS level water will have adverse health effects. One thing to remember, a water level with 0-50 ppm of TDS can have little to no minerals in it, which will make it taste flat. A measure of 50-300 ppm is perfect for drinking water.
What is the normal TDS level of a RO system?
A reverse osmosis system (RO) is designed to settle your water at the best TDS level possible. The peak ppm measurement for water is between 100-300 ppm. This level means that water is free of added contaminants but has healthy minerals remaining in the water that is good for the health when ingested.
Conclusion
TDS meters may seem complicated, difficult to understand devices, but, it works no differently than a thermometer. The benefits of a quality TDS meter cannot be overlooked. Such a small and simple device can provide you with valuable information that can change the way you look at your water for good.
By taking into consideration the number of TDS within your water supply, you will be able to determine the best course of action to make your water as healthy as possible.
There are several different options to choose from when you are deciding the best TDS meter for you. Luckily, there is a solution for everyone! By following our reviews and considering the questions that arose from the buying guide, we are confident that TDS meter for you is hiding somewhere in these pages.