Aquagear water filter pitcher is one of the most sought-after on the market. Its popularity is driven by the portable design, the number of removed contaminants, and the high-capacity filter that lasts much longer than peers like PUR or Brita.
But do these features justify the much higher premium? Read our Aquagear filter review to find it out.
Aquagear Overview
Aquagear is a popular water filter pitcher known for its unrivaled filtering system. A group of engineers from South California came up with the proprietary design over 15 years ago. Since then, Aquagear has conquered numerous homeowners and adventurers who want to drink clean water wherever they are.
What makes Aquagear different from other water filter pitchers is the cartridge designed to remove most water contaminants. This includes fluoride and chlorine and heavy metals, volatile organic compounds (VOCs), disinfectants, lead, chromium 6, particulate, and more.
Aquagear's filters are rigorously tested to meet NFS's 42 and 53(1). However, while it filters out all potentially harmful contaminants, this water filter pitcher maintains all healthy minerals, including calcium, magnesium, and sodium.
Standing by the quality of its product, the brand offers a lifetime warranty and complimentary filter recycling for all sold products.
How Does Aquagear Work?
Aquagear water filter pitcher uses activated carbon and ion exchanging resins to remove an array of chemicals and volatile organic substances other water filter pitchers can't remove.
This purification method combines with mechanical filtration. The water pitcher traps microbial cysts and impurities through mechanical filtration, such as dust, sand, bits of rust, and other particles that may contaminate your drinking water.
Like most water filter pitchers, Aquagear features an upper reservoir you have to fill with tap water. The water then drips through the filter into the pitcher. Once filtered, you can pour it into your glass or use it for cooking.
Aquagear Water Filter Pitcher Review
Build Quality and Capacity
Aquagear is a solidly build water filter pitcher with a space-saving design. An ergonomic handle and an easy refill valve make it easy to fill the pitcher with water and pour.
Like most water filter pitchers, Aquagear is made of plastic. As you'd expect from a compliant product, it is BPA-free(2), FDA-approved, and safe to use by the whole family.
With an 8-cup capacity, this water filter pitcher is the right size for most homes. Just remember that it doesn't have the fastest filtration speed, so don't forget to fill it in the evening to enjoy clean water in the morning. Also, if you have a big family, you'll probably have to refill it constantly.
Every part of this water filter pitcher – filters and cartridges included – is made of vegan and fully recyclable materials.
Flow Rate
Moving forward with our Aquagear review, we have to say this pitcher doesn't have the best flow rate out there. But it doesn't have the worst one, either. Standing in-between peers like Brita Stream Rapids and PUR Ultimate, Aquagear can provide a cup of purified water in about 2.5 minutes.
This is still frustratingly long if you just returned home to an empty pitcher after a morning run, but reasonably fast if you don't mind organizing the refills to avoid running out of clean water.
Water Test and Quality
Aquagear is one of the few water filter pitchers designed to remove more than chlorine from water, and it does so brilliantly.
Its water quality is similar to a whole-house or under-the-sink filtration system. Let's have an in-depth look at the contaminants this filter removes.
Contaminant Reduction
Lead Removal
Lead is one of the primary contaminants present in city water. Although cities purify tap water before supplying it, lead may still find its way into the stream. The culprits are often the older pipes made of lead or lead alloys. If you live in an older building, investing in a water filter pitcher that can remove lead from water is essential.
According to the Michigan Department of Environmental Quality Drinking Water Laboratory, Aquagear completely removed lead and copper in water from a treated public distribution system.
Chlorine Removal
Aquagear does an excellent job at reducing chlorine and chloramines from drinking water. According to independent laboratory testing performed by Envirotek Laboratories, the water filter pitcher can reduce chlorine and chloramines by up to 99.9%.
Chlorine and chloramines are used to purify public distribution water. They aren't harmful but often give water an unpleasant taste and odor. By reducing these agents, Aquagear makes your tap water more palatable.
Salt Removal
Unlike other water filter pitchers that remove healthy minerals, Aquagear maintains them. Salt is one of those minerals. Sodium is essential for our cardiovascular health and a vital electrolyte for the body.
However, if you're on a low sodium diet and want to reduce the amount of salt in your drinking water, this pitcher might not be suitable for you.
Fluoride
Fluoride is another element added to municipal water to help improve oral health. However, fluoride can be harmful in high quantities.
If you're concerned about its level and want to get rid of it, know that Aquagear can reduce it by 98.60%.
Chromium 6
Besides the common contaminants like lead and chlorine, Aquagear can also remove many other contaminants, including chromium and chromium 6.
Apart from these contaminants, the pitcher also removes mercury, arsenic, nitrates and nitrites, benzene, chloroform, and various other potentially harmful heavy metals and chemicals.
Filter Replacement
One of the most annoying things about water filter pitchers is the frequent filter change. On average, most pitchers require you to change the cartridge after 30 gallons (or two months). Some may last longer, but no other water filter pitcher comes with a cartridge that can last for over 100 gallons. None other than Aquagear that is.
Aquagear's filter has a lifespan of 150 gallons or six months. Combined with an acceptable flow rate, the filter's lifespan could justify the pitcher's higher price.
Performance Comparison
Aquagear, Brita Stream Rapids, Clearly Filtered, and PUR Ultimate are today's market's most popular water filter pitchers. Aquagear and Clearly Filtered are the most similar. In a head-to-head Clearly Filtered vs. Aquagear comparison, Clearly Filtered impressed with a slightly better flow rate. However, it can't remove as many contaminants as Aquagear, and its filter has a shorter lifespan.
Regarding Aquagear vs. Brita Stream Rapids, Brita stands out with its filter-as-you-pour technology. However, Stream Rapids only removes chlorine and impurities.
If you're concerned about lead, chromium, and other potentially harmful substances, Aquagear is your best bet.
PUR Ultimate also removes lead and several other contaminants; however, PUR has an even slower flow rate. It is much cheaper, though. So, if cost is the deciding factor, PUR Ultimate could be a good option for you.
Value
Aquagear is one of the most expensive water filter pitchers on the market – at the time of this writing, the pitcher costs over $120. However, considering the number of contaminants it removes and the filter lifespan, we don't think it is expensive.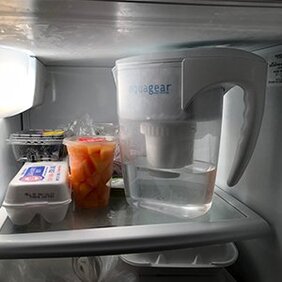 Considering that cheaper water filter pitchers require you to replace the cartridge after only 30 or 40 gallons, Aquagear brings more value for money.
With its 150-gallon filter capacity, it can filter up to 2,400 glasses of water. In other words, this water filter pitcher will only cost you five cents per glass – cheaper than what you'd get from Brita, PUR, or Clearly Filtered.
How to Use Aquagear?
Aquagear is as easy to use as any water filter pitcher. All you have to do is fill the top reservoir with tap water and let it work its magic.
This pitcher can filter a full reservoir in around 20 minutes (about 2.5 minutes per cup).
How Does Aquagear Compare to Other Water Filter Pitchers?
The table below highlights the main differences between the most popular water filter pitchers available on today's market.
| | | | | |
| --- | --- | --- | --- | --- |
| | Aquagear | Brita Stream Rapids | Clearly Filtered | PUR Ultimate |
| Capacity | 8 cups | 10 cups | 10 cups | 7 cups |
| Filter lifespan | 150 gallons / 6 mo | 40 gallons / 2 mo | 100 gallons / 4 mo | 30 gallons / 2 mo |
| Chlorine removal | Yes | Yes | Yes | Yes |
| Lead removal | Yes | No | Yes | Yes |
| Pitcher cost | $$$$ | $ | $$$ | $$ |
Aquagear Water Filter Pitcher FAQ
How to clean Aquagear filter?
Aquagear pitcher is very easy to clean with antibacterial dish soap. The pitcher is made of plastic and can be washed in the dishwasher. However, if you want to maintain it for longer, we recommend cleaning it by hand as often as necessary.
You must also flush the filter regularly using the flushing assembly included with your filter. Simply run it through cold water for two minutes before use.
Is Aquagear better than Brita?
Aquagear is more performing than Brita, but only you can decide if it's better than Brita for you. The two water filter pitchers are very different.
Brita is designed to remove chlorine and improve the taste of tap water. This filter pitcher improves the taste of municipal water but isn't suitable for well water.
Thanks to its filter-as-you-pour technology, Brita Stream Rapids might be a good option if you don't like waiting. Other Brita models are ideal if you're looking for a cheap water filter pitcher to use in the city.
Aquagear removes more waterborne contaminants and comes with a more performing filter. The filter capacity is also higher, but the pitcher is expensive. If you're concerned about water contaminants, Aquagear is a more suitable option.
How long does Aquagear filter last?
Aquagear filters must be changed every 150 gallons or six months, whichever comes first.
In Conclusion
As our Aquagear review highlighted, Aquagear water filter pitcher is an excellent option for most households.
The pitcher has a higher upfront cost, but it is cheaper than other water filter pitchers in the long run. You will only have to make a habit out of refilling it with water regularly to avoid waiting too much before you can enjoy a glass.