Dealing with recurrent episodes of disruptive skin conditions that don't get better no matter what you do? Yea, you're right to have tried different laundry detergents, soap brands, or use more lotion. Something else is the underlying culprit if these do not improve your skin problems. If you shower with well water, this could be the main issue if you don't filter it before bathing.
Your water is likely contaminated with arsenic, bacteria, chlorine, and iron. A study from the University of Pittsburgh shows that these contaminants can lead to severe skin conditions for people with already vulnerable or sensitive skin.
As a well owner, you're responsible for the quality of your water supply, and probably that's why you're here to pin down the best shower head for well water. This article will present my take on these devices and why they are a good fit for achieving softer skin and smoother, shinier hair.
Best Shower Filter for Well Water Reviews
1. Aquasana AQ-4100 Deluxe Shower Water Filter System
It's understandable to feel uneasy about opting for this system – it has a bulky cartridge. The hang-down design can be an eyesore. Aside from its poor unappealing aesthetics, this showerhead is practical. The overhang makes installing or replacing the cartridge easy – no tool needed!
The Aquasana AQ-4100 is arguably the best-filtered shower head for well water with its double filtration system. This filter combines both KDF copper/zinc and coconut shell carbon media.
This unique combination is usually found in advanced household shower filters to effectively remove sediments, chlorines, and other VOC present in the tap water.
Contaminates removes
As stated above, this unit employs patented AquaSorb HX, an activated carbon shell filter, to remove up to 90% of chlorine present in your water supply.
Furthermore, these filters reduce other toxic substances like VOCs, lead, and pesticides. Also, it helps improve the water's pH for smooth skin and healthy hair. The filter has been tested and certified by ANSI/NSF to deliver safe, clean water.
Flow Rate
This model delivers the standard water flow rate of about 2.5 gallons per minute. And, the filter has a lifespan of up to 10,000 gallons or six months of shower use.
Installation
One of the reasons why we loved this Aquasana AQ-4100 is its super easy installation procedure. This showerhead won't take more than 5 minutes for anyone. The installation process only requires you to remove the old showerhead and replace it with the new Aquasana AQ-4100 Deluxe Shower Water Filter System. The wand of the showerhead offers more reach, and it's hassle-free to use.
Our Thought
The Aquasana AQ-4100 Deluxe is a decent option for people looking to purchase a showerhead to improve their water quality for healthy hair and skin. Thanks to its unique filter media, this showerhead removes or reduces iron, mercury, herbicides, pesticides, lead, and chlorine in your water for a safe bath.
The Aquasana AQ-4100 Deluxe is backed by a 90-day full-refund guarantee and a 1-year limited warranty to protect your investment.
2. Miniwell L720-Plus Shower Water Filter System-High output Purifier
The Miniwell L720-Plus Shower Water Filter features lots of thoughtful designs like the see-through visual base to allow you experience the filtration effect without opening the filter. That's not all; you don't need to disassemble the unit to change the cartridge – simply unscrew the base.
Also, the internal composite filter needs to be replaced once every six months, but you don't need to keep track of it. The Miniwell L720-Plus Shower Water Filter System comes with a replacement sticker to inform you when the filter needs to be changed.
Unlike the Aquasana AQ-4100 Deluxe, this filter system has an aesthetically appealing porcelain appearance and adds style and elegance to your bathroom.
Contaminates removes
The Miniwell L720-Plus Shower Water Filter System employs CND technology to create raw materials with high-densification treatment for improved filtration performance.
This guarantees to filter up to 99% chlorine, impurities, sediments, THMs, and other toxic contents in your water. While this shower head removes most of the harmful stuff, it's designed to keep essential minerals and maintain the TDS values.
Furthermore, the internal filter features composite activated carbon fiber to offer more than five times the absorption rate of the traditional options. This way, the composite filter absorbs harmful chemicals to the surface of the medium and delivers clean, healthy water to wash in.
Flow Rate
Although we'd have loved this best shower head for well water if it came with a slightly higher water flow rate, its 2 gallons per minute is not a deal-breaker. This system's water consumption is also 2 gallons per minute.
Installation
This unit comes with everything you need to install this showerhead. You get a wrench and a detailed manual in the package for hassle-free installation. Whether you consider yourself handy or not, you won't need a plumber to attach this filter system to a large shower head or shower head combos.
Our Thought
Suppose you need a showerhead that will look great in your bathroom without compromising efficiency. In that case, the Miniwell L720-Plus Shower Water Filter System can be your best bet. This model features a filter with high accuracy of up to 10 microns to eliminate most of these contaminants, including hardness minerals in your water.
3. PureAction Vitamin C Filter Shower Head for hard water
This showerhead filter features an abs plastic and three parts – zeolite mineral stones and a scented filter cartridge with tourmaline stone.
This handheld showerhead looks impressive and will definitely make any bathroom look modern and stylish. This unit delivers a spa-like shower experience.
Contaminates removes
This handheld showerhead features a multi-stage filtration system to reduce odors, remove sediments and chlorine while improving the overall quality of your water.
The PureAction Vitamin C Filter Shower Head is one of our favorites – and for a good reason. This product adds vitamin C to your water to help improve your hair and skin. Also, we find the citric smell soothing to help relieve stress, improve sleep quality and mood.
The Vitamin C filter eliminates chloramine, chlorine, and sediments and delivers soft water by filtering chrome, rust, iron, and heavy metals. In addition, it improves your water pH to help tackle dry scalp, dandruff, hair loss, and itchy skin.
Flow Rate
The PureAction Vitamin C Filter Shower Head is touted to be perfect for homes with low pressure. However, the manufacturer did not specify the flow rate of this unit.
Installation
This is another thing we love about the PureAction Vitamin C Filter Shower Head. Its high compatibility with any standard shower arm makes the installation process a cinch. This unit works perfectly with your wall-mount, combo, fixed, handheld, rain, and dual spray showers.
After installing this device, you should experience its spa-like shower experience with a soothing citric smell to improve your mood and sleep quality.
Our Thought
The company includes a 60-inch shower hose for longer reach, sealant tape, and replacement filters, which places this product on the premium side.
Aside from its stunning design and outstanding filtration performance, this unit is backed by a 100% money-back guarantee and an unbeatable 1-year manufacturer's warranty.
4. AquaBliss High Output Revitalizing Shower Filter
This filter features a high-quality design, unlike other multi-stage products out there with poor-quality filler materials and unnecessary stages. This unit utilizes coconut shell-activated carbon, double-strength calcium sulfite, and quality redox media. These components work in tandem to remove the nasties for a safe, healthy shower.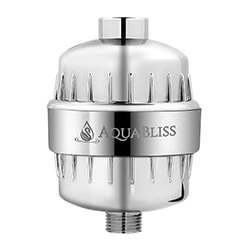 This lightweight filter weighs about 1.52 pounds and is compatible with any standard shower arm. With this pocket-friendly shower head, this unit offers extreme filtration and rejuvenation benefits. This model employs ceramic beads to restore stronger nails, itch-free skin, healthy, shiny hair.
Contaminates removes
This model features an advanced 12-stage health filter to remove odors, dirt, pharmaceuticals, pesticides, chlorine, and control scale buildup. Also, it helps balance out your water pH levels and adds beneficial minerals to repair the damages done to your nails, skin, and hair.
Flow Rate
The AquaBliss High Output Revitalizing Shower Filter is arguably the best shower head for well water pressure. While the manufacturer did not state the product's flow rate, it seems to impress lots of its customers.
Installation
Installing this showerhead simply requires you to remove the old chlorine filter or shower filter and replace it with the AquaBliss High Output Revitalizing Shower Filter. This process is as easy as snapping together Legos.
This showerhead comes with all types of shower options – fixed, rain, and handheld. Above all, you don't need any tool to install this showerhead.
Our Thought
The AquaBliss High Output Revitalizing Shower Filter does not come with a showerhead but has a standard dimension to ensure it works with all types of showers.
This product combines rejuvenation and filtration to remove harmful chemicals and infuse vitamins and essential minerals into your shower water.
How to Choose the Best Shower Filter for Well Water
Type of Showerheads
The effectiveness of a showerhead relies solely on the media it houses. Thus, the best type of showerhead to go for depends on whether you need to replace the filter or opt for a new showerhead altogether. Most of the ones I reviewed below have replaceable filters, which are easy to do and will save you from constantly having to replace the showerhead. Other popular shower heads, like the Speakman brand, don't filter out well water and would need to be replaced yearly.
Showerhead filter
This type features a built-in filter and a functional showerhead. A shower head filter tends to be bulkier than the regular version since it requires more space to hold the cartridge. They are easy to install to your shower fixtures without grabbing your toolbox.
The shower head filter's primary concern is its significantly lower water flow rate. Therefore, it's best to check the water flow rate and ensure it's within the standard 2.2 GPM – 2.5 GPM.
In-Line Filter
These types go in between the main water pipe and your current showerhead. Like the showerhead filter, they don't require any tools to install. Usually, they come with Teflon tape to ensure a secure fitting when installing these filters. Such as this popular model from Aquqsana.
These are a common choice for people who prefer to stick with their existing showerhead. But before purchasing an in-line filter, you might want to check their compatibility. Although they are compatible with wall-mounted, handheld, and rainfall showers, you might run into trouble with swivel showerheads.
Material
Showerhead features different build quality; some products are made of metal or plastic. The latter comes at an affordable price and easy to maintain. Sadly, plastic showerheads tend to crack and leak with time. So, if you plan to use the showerhead for a long period, you'd be better off with the metal counterparts.
Metal shower water filters feature a rust-proof design to protect the device from decay and corrosion. In addition, you should stick with high-quality metal construction. Sadly, such high-quality products will come with a hefty price tag.
Water pressure
Another vital thing to consider is the amount of water you use, as this is proportional to the water flow rate of the product. Each showerhead has a specific amount of water it can supply in a minute. These products filter your well water, which reduces the water pressure. Hence, you should consider the capacity of the showerhead and ensure it offers the standard water pressure. If you have low water pressure regardless if you are on a well or not, then look at these low water pressure shower heads.
Lifespan
No water shower filter can last a lifetime. At some point, you'll have to replace the cartridge. The importance of replacing the old filters cannot be overemphasized. Else, it will be a perfect breeding ground for bacterias and allow sediments and chemicals to find their way back to the water.
So, you should check the filter's lifespan before splurging on one. The lifespan of the filter is shown in gallons. Also, you want to choose based on the water you or your family consume daily.
What will be filtered out?
Shower filters are designed to remove several contaminants, and some models are meant to combat specific substances.
For instance, when dealing with hard water, you should consider showerheads touted to dissolve hardness minerals and scale. Also, there are models to help you eliminate foul odors, rust, chlorine, and other contaminants.
Installation
Most showerheads are easy to install, even if you're not a DIY-kind-of-person. However, you might run into issues if the manufacturer's instructions are not clear and easy to follow.
You want installation guidelines with lots of relevant labeled diagrams to make the whole process a breeze with any product. Some showerheads come with online video tutorials, which will come in handy for people who prefer visual illustration. All in all, installing the best shower head should be easy peasy.
Why Do I Need A Showerhead for Well Water?
Reduce chlorine
If you treat your well water with chlorine, you might want to consider a showerhead. Chlorination kills germs and bacteria in your water. However, recent studies have shown that this process does not totally eliminate the disinfection product, and it's likely to be absorbed by the body during showering.
In addition, chlorine can wreak havoc on your hair and skin, causing them to appear unhealthy and weak. At worst, it leads to some skin conditions.
Soft water supply
Your well water is more likely to be hard, which has been linked to weak hair and dry skin. So, using one of these best showerheads for well water will help eliminate the hard minerals for smoother, healthier skin and hair.
Stop viruses and bacteria
A shower filter is designed to stop most bacteria and viruses in your water or breeding in the showerhead from reaching your body. Using the right showerhead helps prevent the growth of bacteria in your shower head.
Minimize toxic chemicals
Well water tends to be contaminated by several harmful substances such as herbicides, pesticides, and many more that can cause skin irritation.
Children's safety
Kids have delicate skin, making them more susceptible to developing allergies, asthma, and many other conditions. Thus, you want to ensure your children shower with clean, safe water to prevent them from developing serious skin conditions.
Conclusion
Well water usually contains mineral salts and several harmful substances, which can damage the hardware in your bathroom or irritate your tissue. Therefore, purchasing the best shower head for well water is crucial to help filter out calcium, chlorine, heavy metals, pesticides, and mineral salts.
With hundreds of options, it's easy to get confused and overwhelmed. Hopefully, our whipped-up list of the top 4 shower heads makes the decision process easy.