Kube water filtration system, produced by Kinetico Water Systems is now gaining popularity for its amazing features. Its top-notch filtering features make it a great product to rely on to supply us with clean water. Through this blog post, I will provide you with a thorough review of the Kube water filtration system to show you how the quality of your water can be greatly improved just by using this Kube system.
What Is The Kube Advanced Water Filteration System?
Here are a few of the amazing features of Kube's advanced water filtration systems.
Intelligent Monitoring
The Kube's Filter Life indicator is one of the features that distinguish this system as one of the best on the market. It assists in determining the use and time for you to get the most out of this system.
To guarantee that you do it correctly, read the handbook to confirm how this function works. Remember to check the filter life indicator regularly to ensure that the filtering process is still operational.
This feature is critical in ensuring that you receive a replacement when you require one.
Compact Design
According to the manufacturer, Kube is one of the tiniest water filters on the market. It fits perfectly under the sink, leaving plenty of room for other necessities like cleaning supplies.
Kube appeals to a wide range of people because of this trait. The mass of the device is not an issue for those with limited space, particularly in the kitchen. It's also a good water filter for folks who travel in RVs. This product's design makes it portable and suitable for a variety of outdoor activities such as camping. The dimensions of this unit are 6.2 by 13.1 inches.
Dual-Flow Twist and Lock Filters
This system has a dual filter system that helps keep the flow consistent during the time you're using the Kube filter. Additionally, due to the design of this item, maintenance is quick and straightforward, as seen by evaluations and feedback from prior clients.
The sludge and other sediments in the filter may also be easily removed. Due to this function, the Kube water filter system has made a reputation for itself in the market!
Easy Installation
Since this is not a full-blown reverse osmosis system, setting up your Kube filtration system will take you about 15 minutes. As numerous reviews indicate, the unit is not difficult and hence simple to install. The manufacturer provides a guide to assist you with the installation procedure.
Aside from the YouTube instructional, the manufacturer provides a booklet with instructions to assist you in installing your Kube filter. To prevent harming the filter, follow the directions to the letter before using it to enjoy the many benefits it provides. Do not use any of the simple tricks that you read in reviews.
Bypass Knob
This is another feature that distinguishes the Kube water filter from the competition. Without turning off the main water supply, you may switch from filtered to unfiltered water using the knob.
People who wish to keep their filter for a long time might use the knob to make it easy. If your household's use is excessive, this bypass knob will make switching between filtered and unfiltered settings a breeze.
Contaminants Filtered In the Kube
This filtration system will eliminate a broad list of pollutants. Among the contaminants removed from municipal water by the Kube are heavy metals, medicines, fuel additives, industrial pollutants, microbiological cysts, pesticides, and herbicides.
This device retains beneficial minerals while eliminating all pollutants present in tap water. This unit's usefulness is due to a combination of attributes.
My Kube Water Filter Review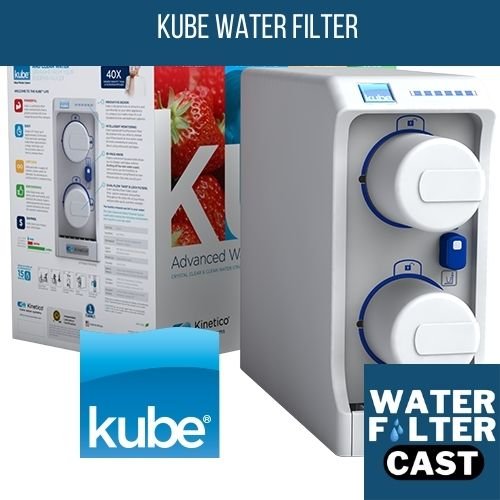 When it comes to H2O filtration evaluations, the term Kube Advanced Water Filtration System has been making waves. It makes a lot of promises and claims about how successful it is at guaranteeing that we and our family always have safe drinking water.
Do they live up to their name? Here are a few things that we liked and disliked regarding Kube water filters.
Likes
The first thing to mention about the Kube water filter is the WQA certificate and its ANSI standards which leaves a great impression about the filter on us.
The 3-second filter replacement. Super easy to replace the filter in this unit.
It also has a great design which takes up only a small space leaving enough space for other appliances.
Since it is connected under the sink directly to the faucet of the sink, it makes it easier for us to use. It also has a knob which can be used to temporary off the filter allowing us to get normal water, in case you need it.
It takes up less effort to install as well and the manual makes the work easier.
The life monitor is a smart indicating system that makes it easier to find out when the filter should be replaced making sure that we are always supplied with clean water.
Water filtered from the Kube water filter is a great tasting healthy water that tastes much better than tap water and doesn't have any bad odour as well.
It even comes with a two-year warranty.
There are no health risks by using the Kube. Only health benefits.
Dislikes
The filter only has duel-filter carbon filtres and required filter changes on a regular basis.
Kue water filters don't filter out fluoride from water, so a separate method will be needed if we want to remove fluoride from our water.
Kube water filters don't specify what their special carbon media composite filters contain, which could leave suspicions.
Bottom Line
All In all, Kube Water filter systems are one of the best filtration options available for you and are both safe and healthy to use. It is easy to use, easy to install, and has a great design as well. Since it is an under-the-sink filter that is connected directly to the faucet of our sinks, it makes it even easier to use.
If what you are looking for is an easy and simple filter that is also very efficient on its task, then the Kube water filter might just be what you are looking for.
FAQ
How Long Does A Kube Water Filter Last?
How long a Kube water filter lasts depends entirely on how often it is used. The Kube advanced water filtration system can usually filter up to 6300 liters and will usually last up to six months. This is certified by the Water Quality Association (WQA) and has certified them as NSF/ANSI standards. 
When Should I Replace My Kube Filter?
Figuring out when to replace your Kue water filter is easy as it comes with a life monitor. When the life monitor turns to white and then to red, which was originally blue, this means it needs to be replaced. The filter usually lasts for about six months, but it will depend on how much water is filtered and how many contaminants the filtered water contains.
Are Kube water filters recyclable?
Some components of the Kube water filter are non-recyclable, so it is not recyclable as a whole, as most water filters are. However, the filter can be used for a very long time so it can be considered environmentally friendly.
Does Kube water filters remove lead?
Kube water filters remove up to 99% lead along with many other contaminants from the water making drinking was safe and healthy to consume.